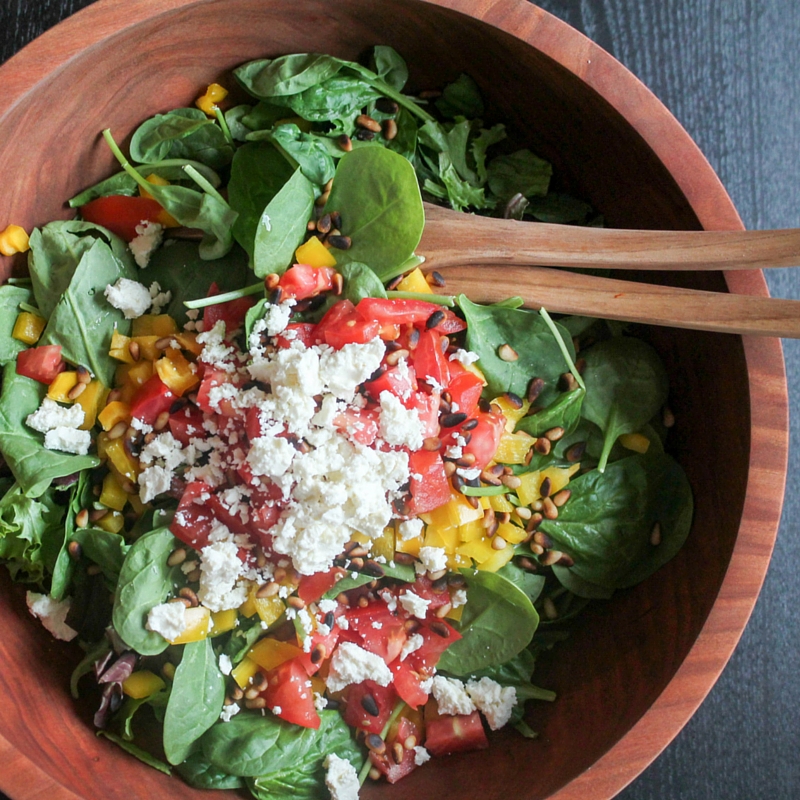 Happy Monday ya'll! My Monday morning is being fueled by a couple shots of espresso. Much needed. We didn't have a super eventful weekend, but definitely kept ourselves busy enough. I threw a bridal shower for one of my friends on Saturday, then yesterday we decided to start tackling the guest room that will eventually become our guest room/nursery for the twins. We've been using the guest room large walk in closet for storing a lot of random things, so it felt good to empty a lot of it out and have a clean slate in there.
We also didn't eat a lot of greens this weekend, so this salad is needed in our lives this week! I can't wait to share this simple recipe with you guys. It's a salad I started making years ago when I would go over to my friend Madeline's house for dinner. Madeline's family is Italian, therefor they are incredibly welcoming and invite anyone and everyone over for dinner. I've been lucky enough to have had my fair share of family dinners at her house throughout the years, and there wasn't a dinner that didn't include this salad! I always loved it because it was perfectly dressed, had so much flavor, and included things I never really ate while growing up, like feta cheese and pine nuts. I always left wanting more of this salad, so decided to create it on my own for my own dinners and for guests. It's light, fresh and so easy to throw together, but it's impressive enough for guests and adds the perfect nutritious compliment to so many dinners. You will love it!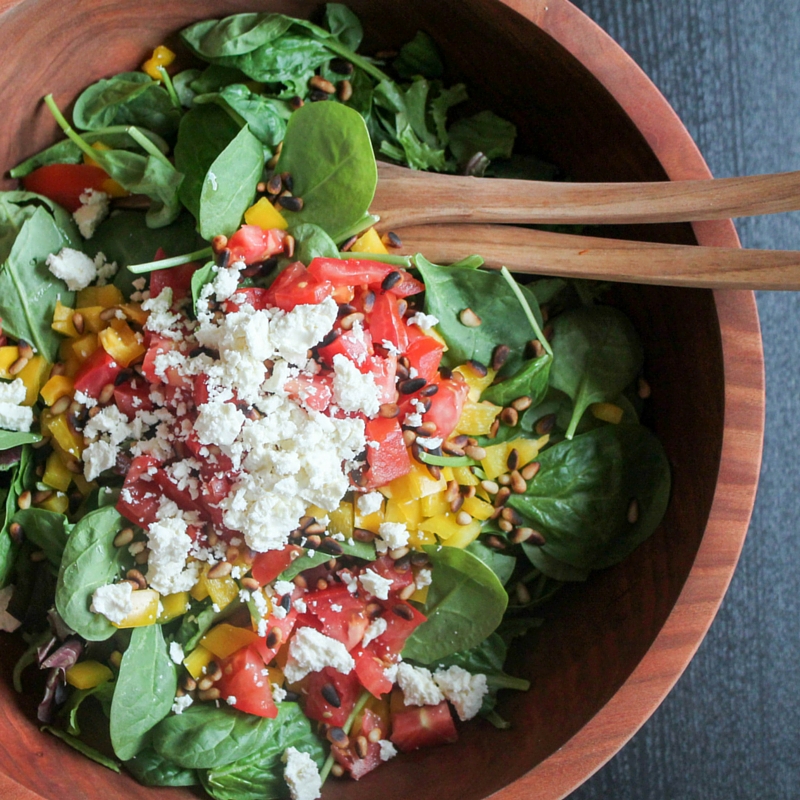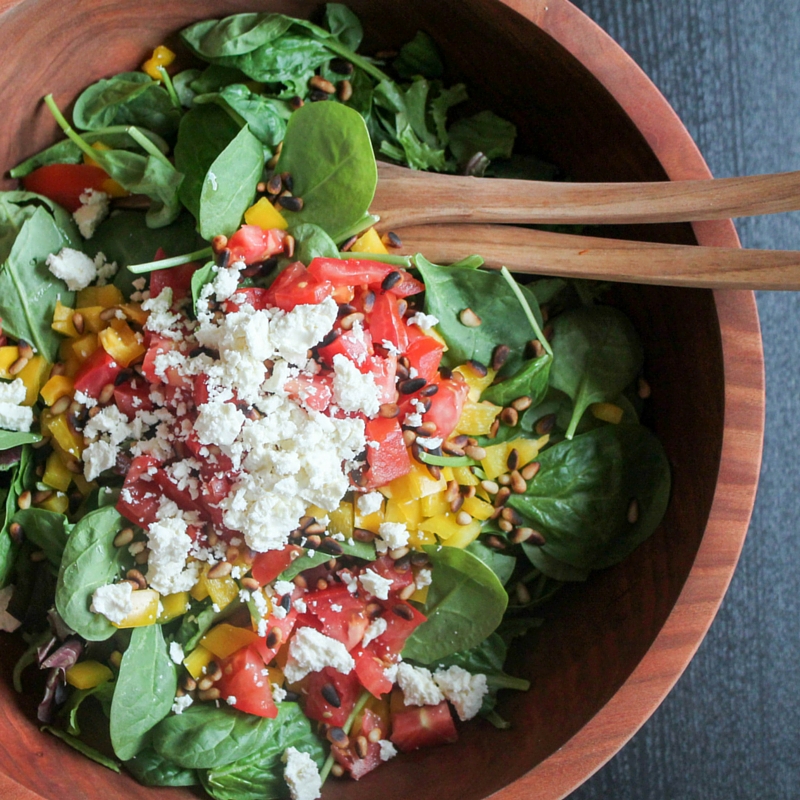 My Favorite Summer Salad
2016-07-11 09:02:30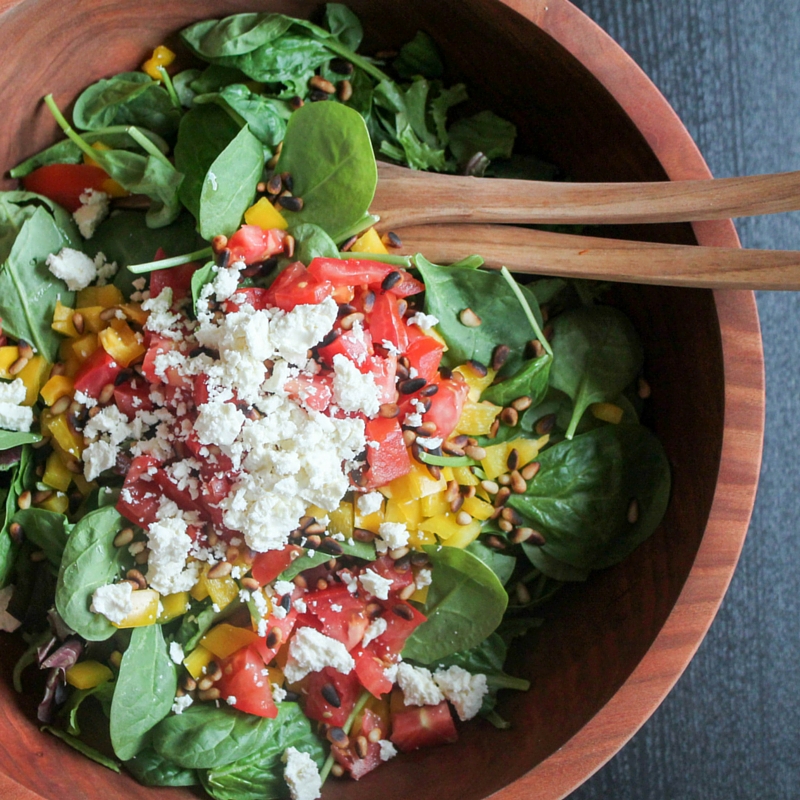 Serves 4
One of my favorite salads to serve throughout the summer when fresh vegetables are abundant. Dinner guests love it!
Ingredients
4-6 handfuls fresh mixed greens
1 bell pepper - diced - I like to use yellow or orange
1 large tomato - diced
1/2 a cucumber - diced - I like to remove about half of the skin and leave the rest for crunch
4 oz feta cheese - crumbled
1/4 cup pine nuts - dry toasted
For the Dressing
1/2 cup extra virgin olive oil
1/4 cup red wine vinegar
Juice of half a lemon
1 tsp dijon mustard
1/2 tsp salt
1/4 tsp pepper
Instructions
Place the pine nuts in a small saute pan over medium-low heat
Once they begin to smell fragrant, toss around until each side is golden brown then remove and let cool
Watch them carefully - they toast quickly!
While the pine nuts are toasting, chop your vegetables
Place the greens in a large salad bowl and layer the veggies, pine nuts and feta cheese on top
Toss with the dressing and serve
healing whole nutrition http://www.healingwholenutrition.com/