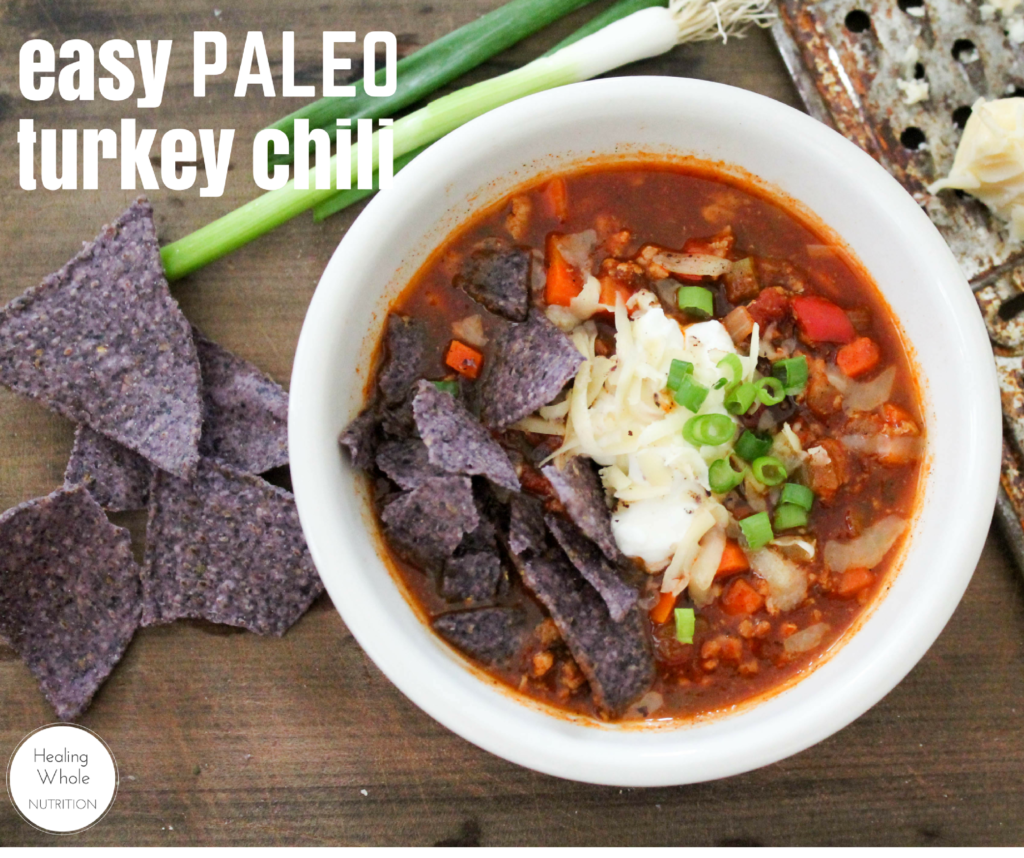 Happy Monday! I am posting a chili recipe today in hopes it brings some crisp, fall weather to Houston. It is SO hot here! I think we're even breaking some records today with the 90 degree temps we're experiencing. But, I think there's an end in sight and a cool front comes on Thursday bringing us back some fall!
How was everyone's weekend? Ours was pretty relaxed which was super nice. I am trying my hardest to relax whenever I can and soak up the last weeks before these babies come. I've mentioned this before but it's just such a surreal feeling knowing it won't ever be just Mitch and I again, so we've been enjoying lots of QT these last few weeks. One perk of having summer temps in October is that it's still pool weather, so we've also been spending our weekends at the pool soaking up Vitamin D and it's been great.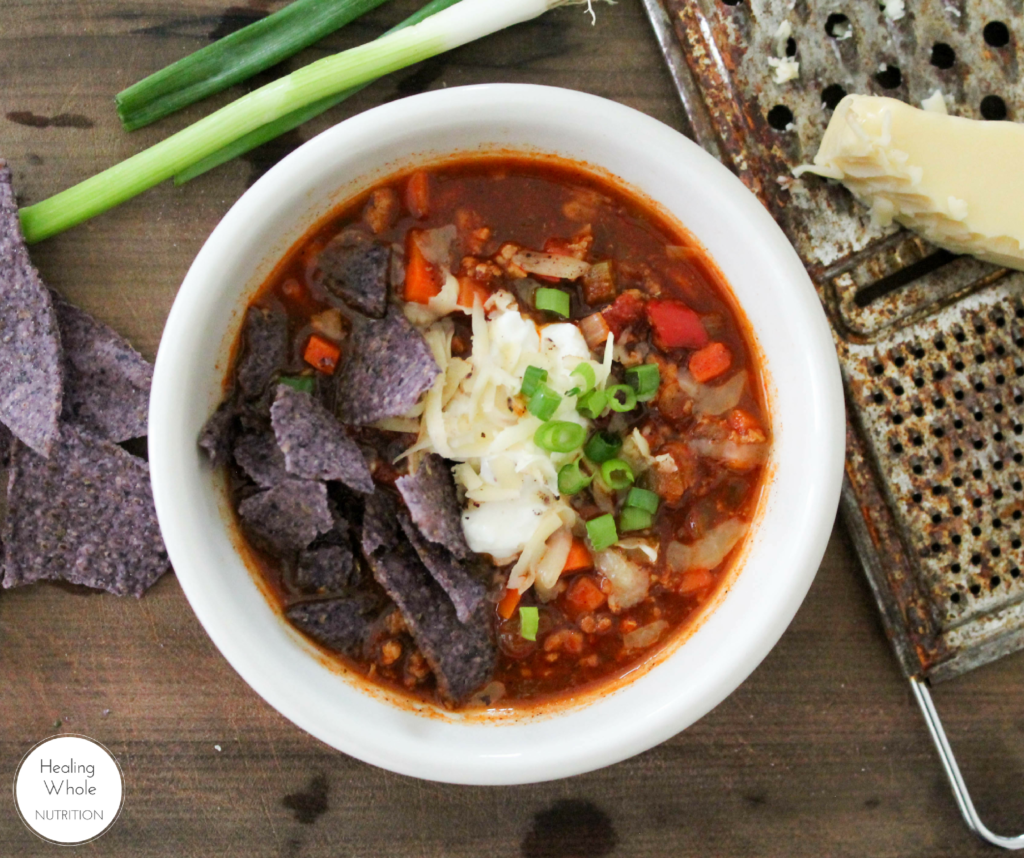 So, this chili! It's delicious, healthy, and really easy. You can also use whatever veggies you have on hand, making it very versatile. It's paleo, meaning I didn't use any beans, but if you are really missing the beans and don't care if it's paleo, just add them back in. I also love making quinoa on the side and adding a big scoop to my chili to make it a little more balanced, but this isn't paleo either. For me, pregnancy calls for more carbs, so quinoa it is.
You can also add anything you want for garnish to this chili, but my favorite part of chili is adding all the toppings. I chose grass-fed cheese, greek yogurt, green onions and blue chips, but add anything you like. Enjoy!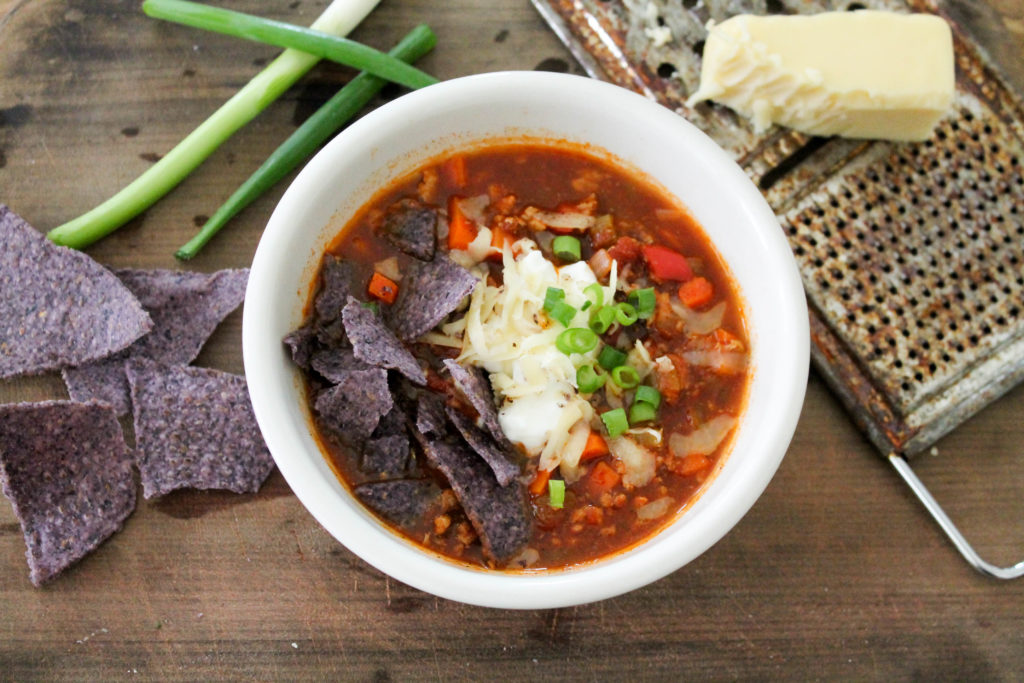 Easy Paleo Turkey Chili
2016-10-12 13:32:19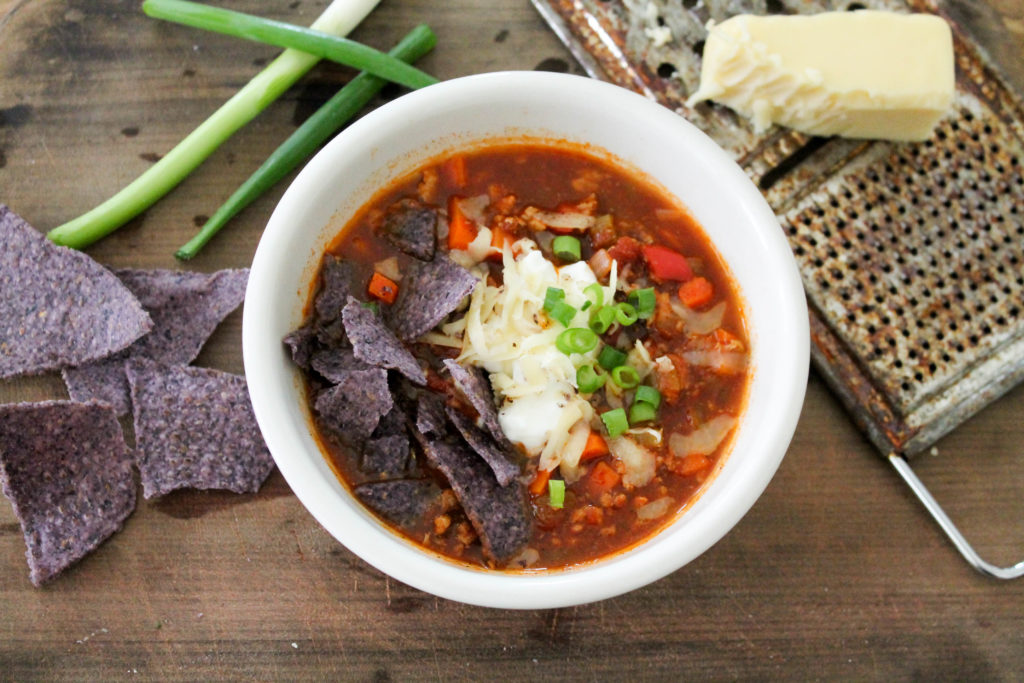 Serves 2
Easy, healthy turkey chili perfect for a crisp fall day! This recipe is really versatile and you can use any veggies you have on hand.
Ingredients
1 lb ground turkey
1 tbsp grassfed butter or coconut oil
1 red bell pepper - diced
1 small onion - diced
3 carrots - diced
2 ribs celery - diced
3 cloves garlic - minced
3 tsp salt
1/2 tsp black pepper
3 tbsp chili powder
1 tsp paprika
1 4oz can green chilis (I used the hot variety, but they come in mild and medium too)
1 32 oz can diced tomatoes
3 cups low sodium broth (I used veggie broth)
To garnish
GF blue corn chips or plantain chips
guacamole or avocado
If you eat dairy
Greek yogurt or sour cream
Grass-fed shredded cheese
Instructions
Preheat a large stock pot on medium-high heat
Add the grassfed butter or coconut oil and allow to melt
Add the ground turkey, 1 tsp salt and 1/4 tsp of black pepper and saute until cooked through
Remove with a slotted spoon into another bowl, and set aside
Add the onion, carrot, bell peppers and celery to the pot with another tsp of salt and let cook for about 5 minutes
Add the garlic and the meat to the pot with the final tsp of salt, the spices, green chilis and the diced tomatoes and cook for another minute or two
Add the broth then bring to a boil, then reduce to a simmer until ready to serve (I like to let it cook for at least 30 minutes)
healing whole nutrition http://www.healingwholenutrition.com/