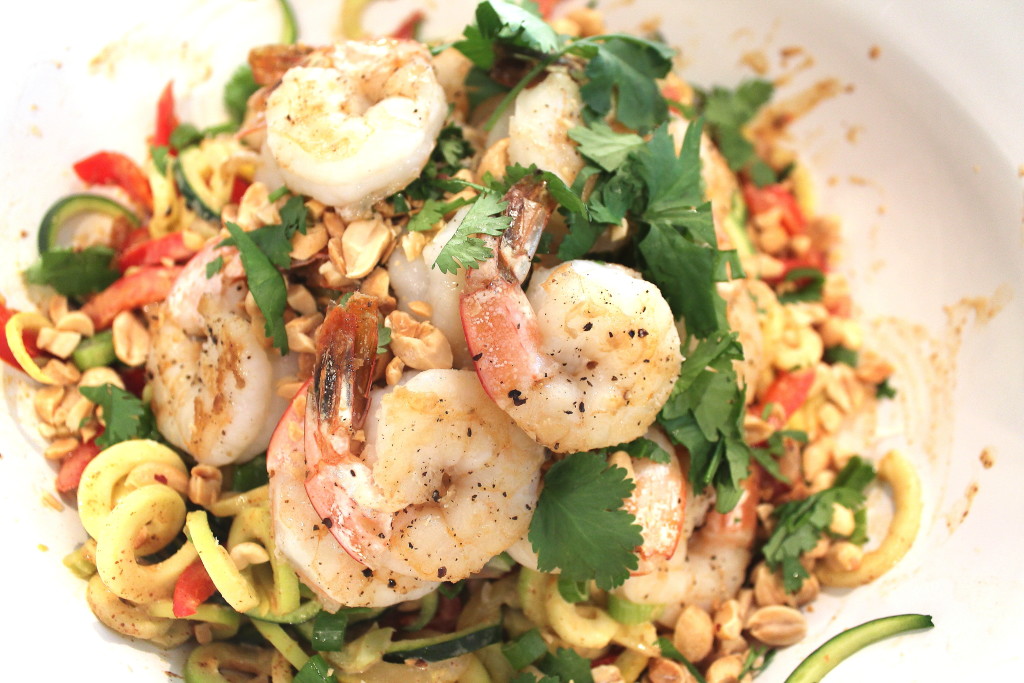 So, we're finally settled and I am back to my blog! After two months of getting married, honeymooning, packing up our Denver abode, traveling to Ohio for some amazing weddings then finally making our way to Houston, we are finally pumping the breaks. Everything that has gone on the past two months has been so fun but we haven't had real life in forever and I am happy it's back. This means I will have time to devote to cooking and blogging. Two things I have really missed.
We've been in Houston for just over a week now and we both really like it! Everyone told me to brace myself for the crazy 100 degree days with 90% humidity, but so far it isn't any more humid than Ohio ever was, and I actually think I like the heat. Little June bug on the other hand is hot hot hot. And an apartment dog for the first time ever and I think she has cabin fever. I need to keep reminding myself that she is a dog and not a human child.
So these noodles! Not real noodles which is sad, but veggie noodles, and they were pretty delicious. I was craving Pad Thai the other day but after looking at a lot of different recipes I decided the ingredient list was over my head (ie Tamarind water or paste) and I settled on making a peanut sauce. So much easier and so delicious! It does require some ethnic ingredients like chili garlic sauce, but nothing you can't find in your regular grocery store.
Start by spiralizing your veggies. I used zucchini, yellow summer squash and then sliced 2 red peppers really thin for some texture. I wanted to try to spiralize carrots but it definitely doesn't work.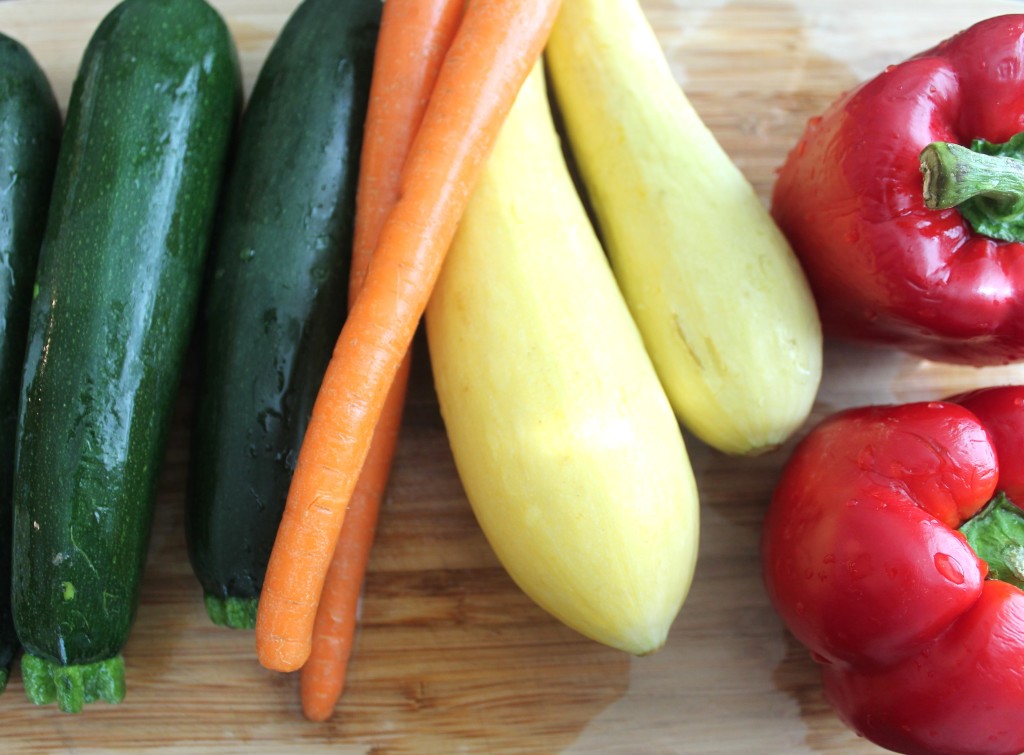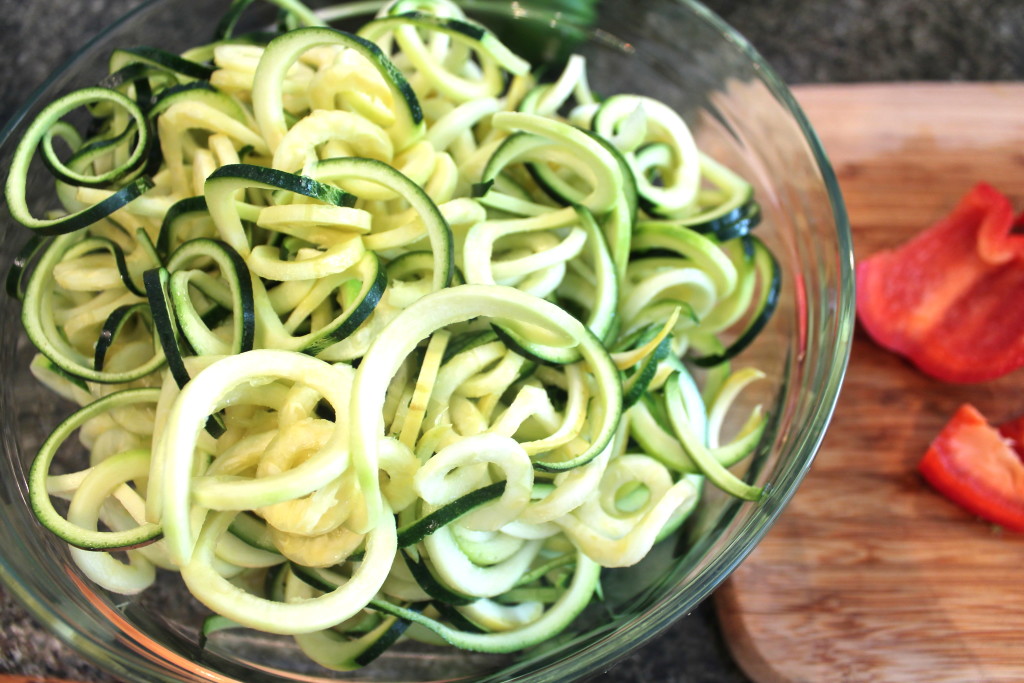 After you're done spiralizing, make your sauce, then start cooking your protein if you choose to have one. We had shrimp since wild-caught seafood is everywhere here, but chicken would be amazing and I might try that next time. As soon as your protein is done, set it aside and quickly sautee your noodles for about 5 minutes. You don't want to overcook them or else they will lose their texture and get almost "soupy". While your noodles cook, prepare your toppings! We used chopped peanuts, sesame seeds, cilantro and green onions. Highly recommend any of those.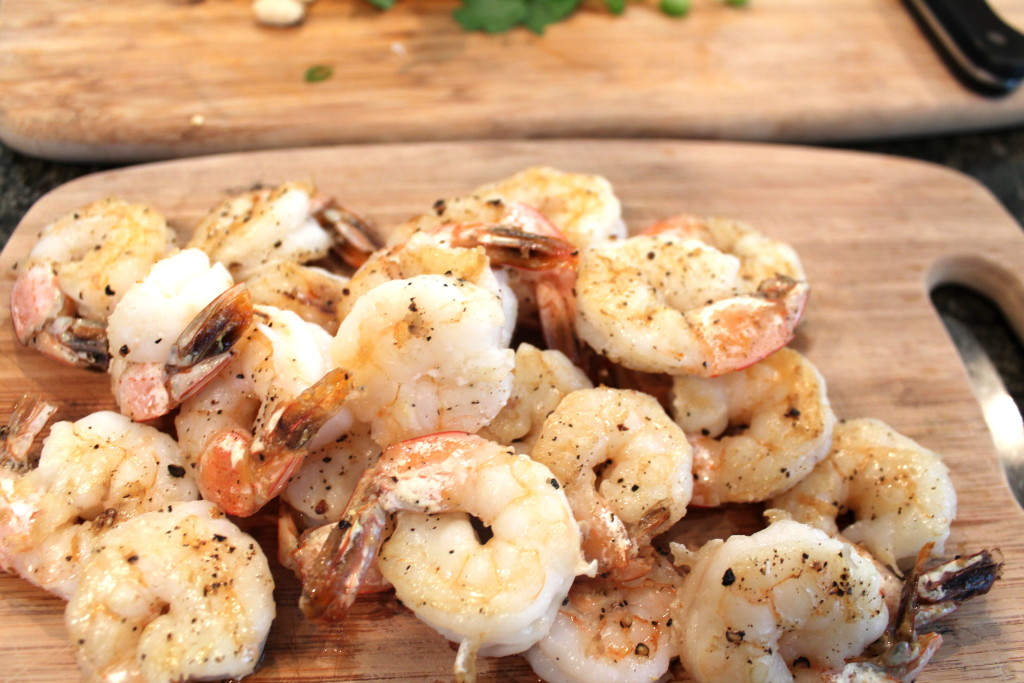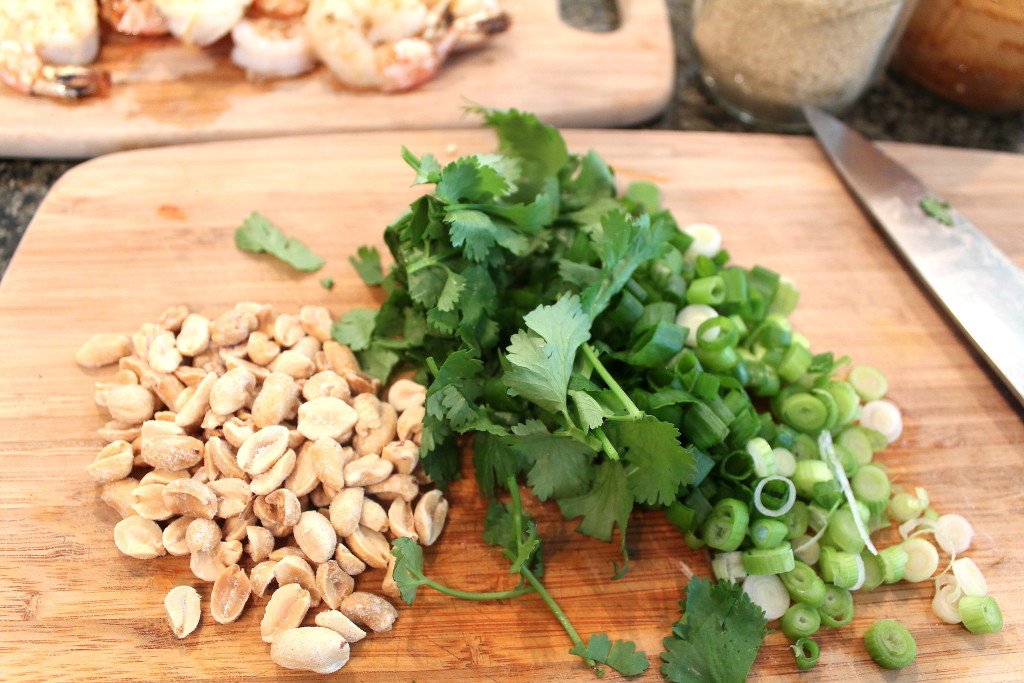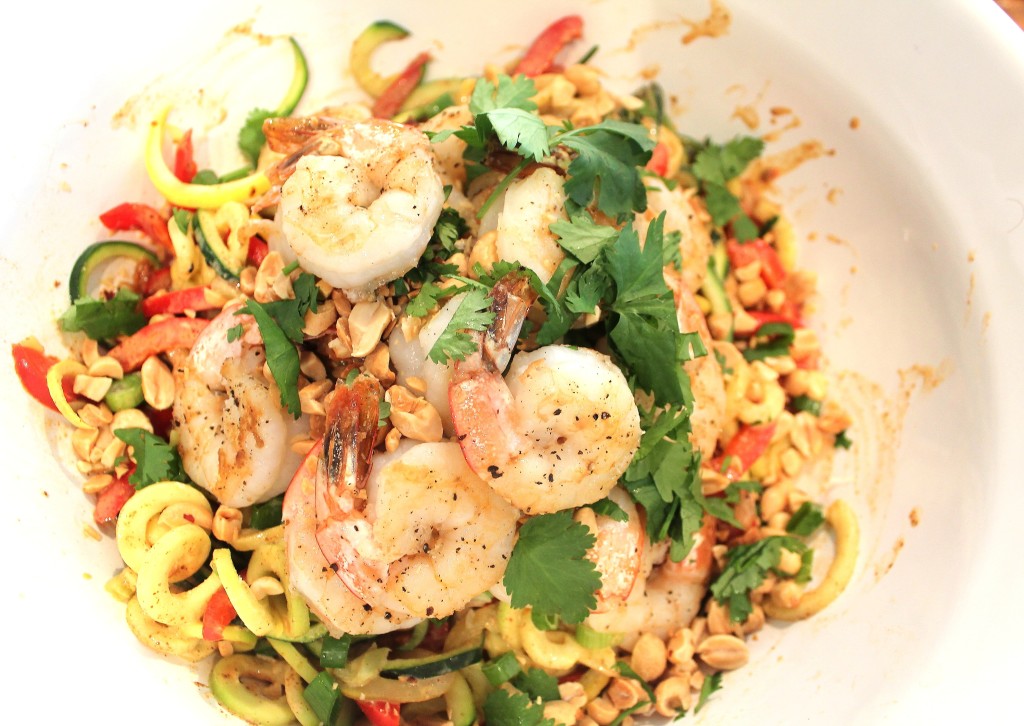 Remove your noodles from the heat and pour into a large serving bowl. Toss the noodles with your peanut sauce, add your protein and your toppings and serve. Soo good and so healthy. You could definitely use rice noodles in this dish if you don't want to make your own veggie noodles. It would still be gluten free, just not paleo. Enjoy!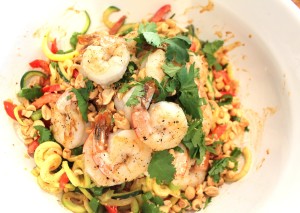 thai peanut noodles
2015-08-18 14:56:50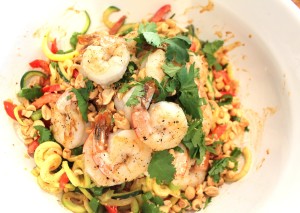 Serves 3
A healthy way to enjoy decadent, rich peanut noodles!
Ingredients
3 yellow summer squash - spiralized
3 zucchini - spiralized
2 red bell peppers - sliced thin
1 lb wild caught shrimp (I bought mine peeled and de-veined from the grocery) you could also use 1 or 2 chicken breasts
1 tbsp coconut oil - for the shrimp
1 tbsp butter or coconut oil - for the noodles
For the sauce
3/4 c smooth peanut butter (or almond butter)
1 1/2 tbsp organic soy sauce
1 tsp chili garlic sauce
1 tbsp honey
1 tbsp water (or more, depending on how thick you want your sauce)
2 small cloves garlic
1/4 inch piece fresh garlic - optional if you don't have it on hand
Toppings
Chopped cilantro
Chopped peanuts
Sesame Seeds
Chopped green onions
Instructions
Prepare your noodles by spiralizing the squash and zucchini and slicing the red peppers into thin strips and set aside in a large bowl (my spiralizer is off of Amazon and I love it)
Make your sauce by adding all ingredients to a blender and blend until smooth
Preheat a saute pan on medium heat and add your coconut oil
Cook the shrimp 2-3 minutes per side and set aside - don't overcook your shrimp or else they will get chewy
Add the noodles to the same saute pan with your remaining 1 tbsp of butter or coconut oil, and saute for about 5 minutes - don't overcook or else they will get mushy and lose their texture
Remove the noodles from the pan and place in a large serving bowl
Add the sauce and stir
Add your shrimp and your toppings and enjoy!
Notes
Feel free to use rice noodles instead of veggie noodles if you want - the dish will be GF but not Paleo
Subbing chicken for shrimp would be delicious!
healing whole nutrition http://www.healingwholenutrition.com/