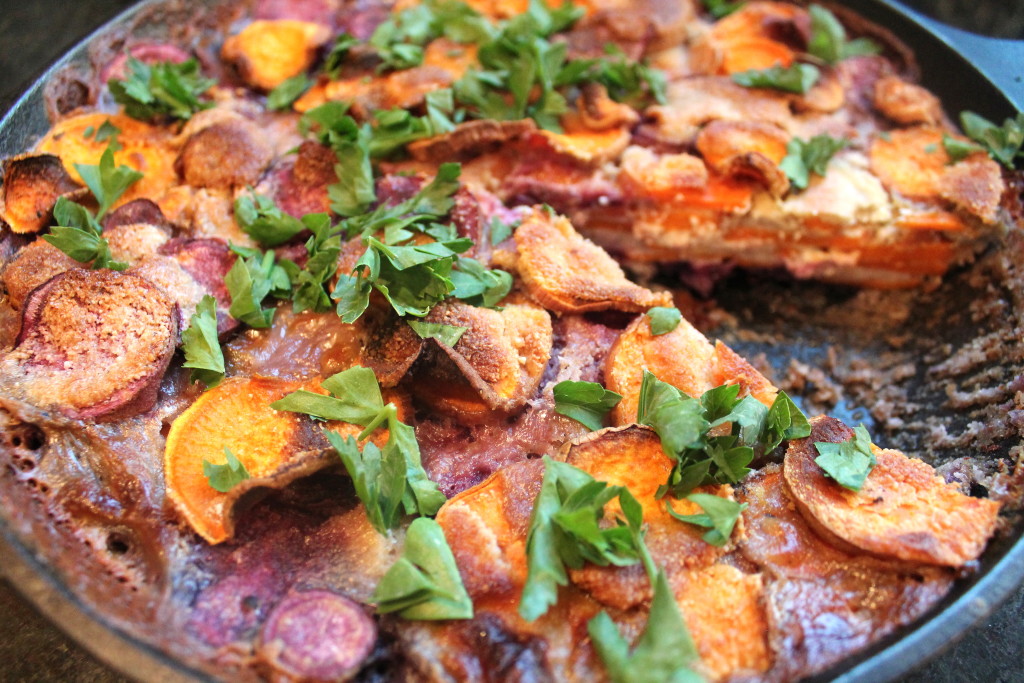 It's Thursdayyy! This morning I am having a hard time focusing on this delicious, fabulous gratin that I made for Mitch's 29th bday on Tuesday because there are only 16 days until we tie the knot…how is it so soon! I still have about 100 more things to accomplish before then. As much as I have loved wedding planning – it really has been so fun – I am pretty ready to be married and leave this part-time job behind me:) Or I will be sad and won't know what to do with all my spare time. Only time will tell!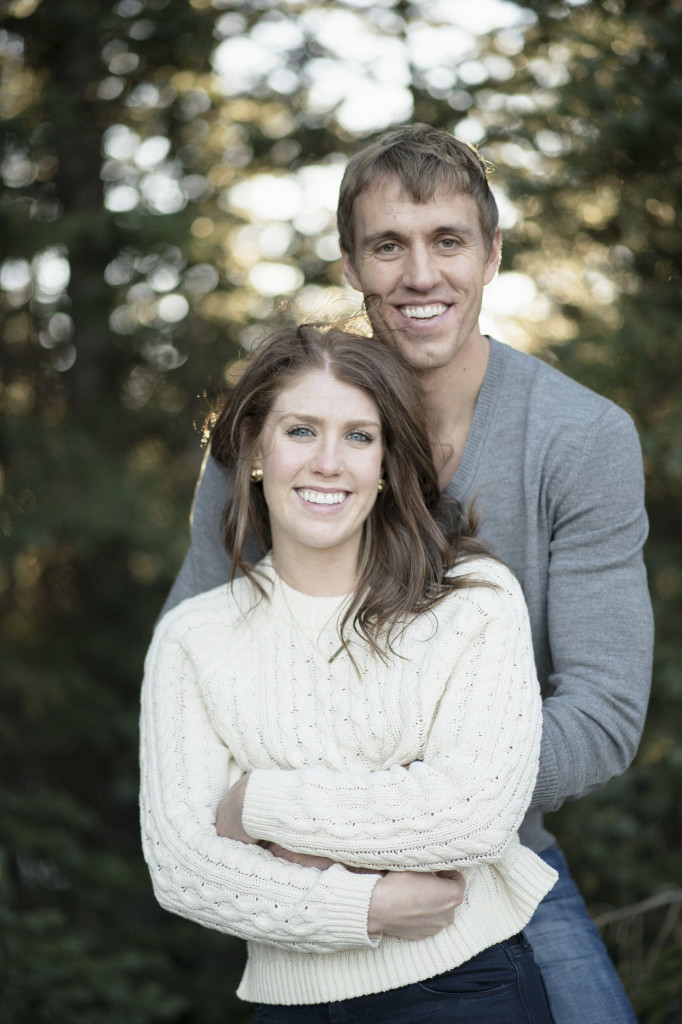 So, this gratin! I was so happy when this turned out. It was for Mitch's birthday dinner, so that would be unfortunate if I ruined it with a potato experiment and it's also so sad when you go to a lot of effort creating something and it turns out terrible. But, it worked and it was delicious! I absolutely love scalloped potatoes and gratin's, but they are usually cheese and cream-laden which are two things I don't want to eat a lot of of, so I went to work creating something similar but vegan.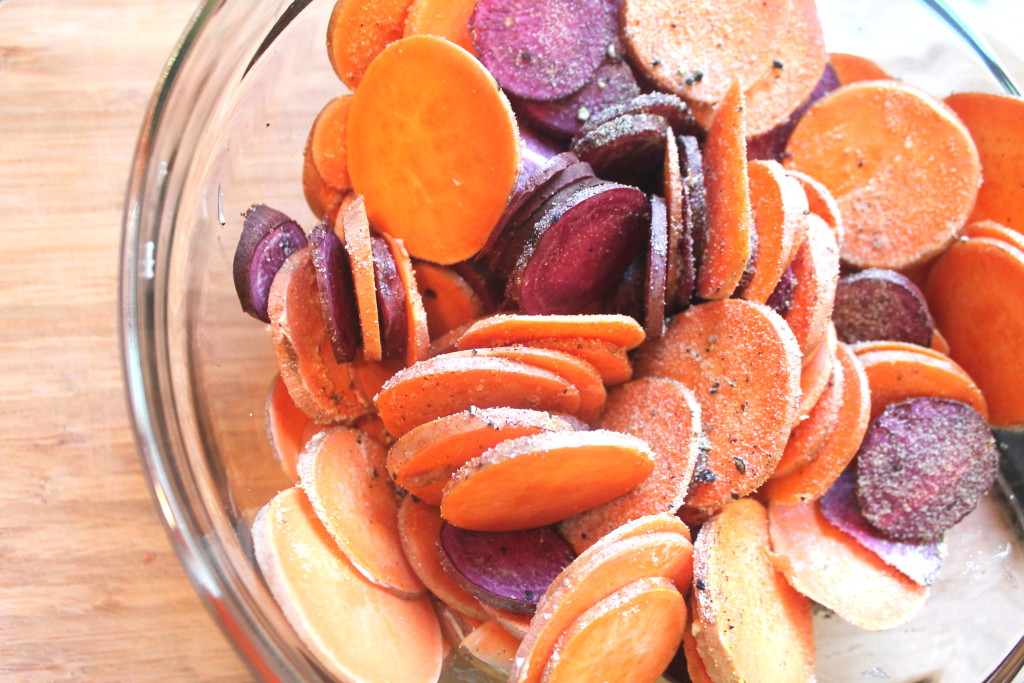 I used my usual go-to when I want to make a vegan cheese-like sauce – cashews. I soaked them in vegetables broth for about an hour then blended them until a creamy sauce formed. I mixed this with unsweetened coconut milk and it became my "cheese" sauce.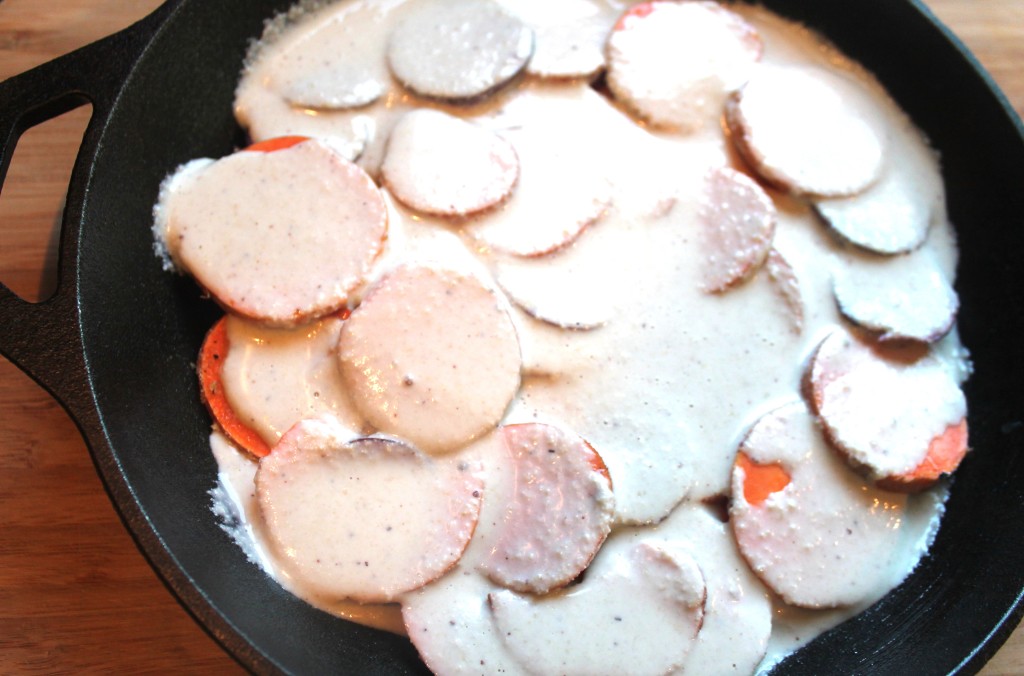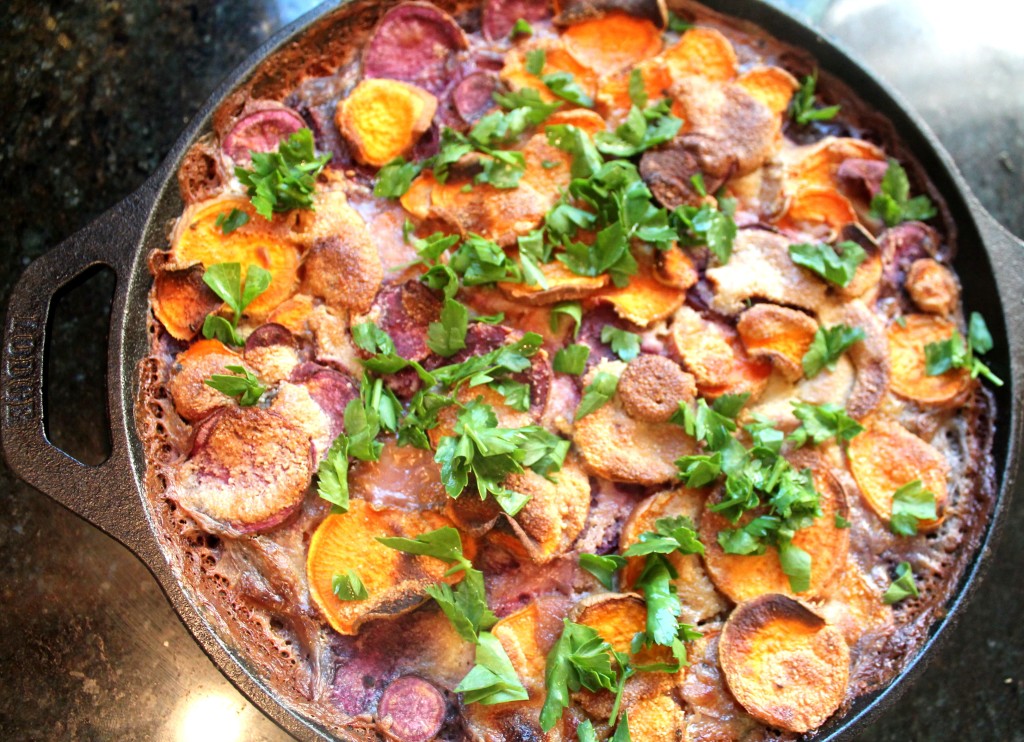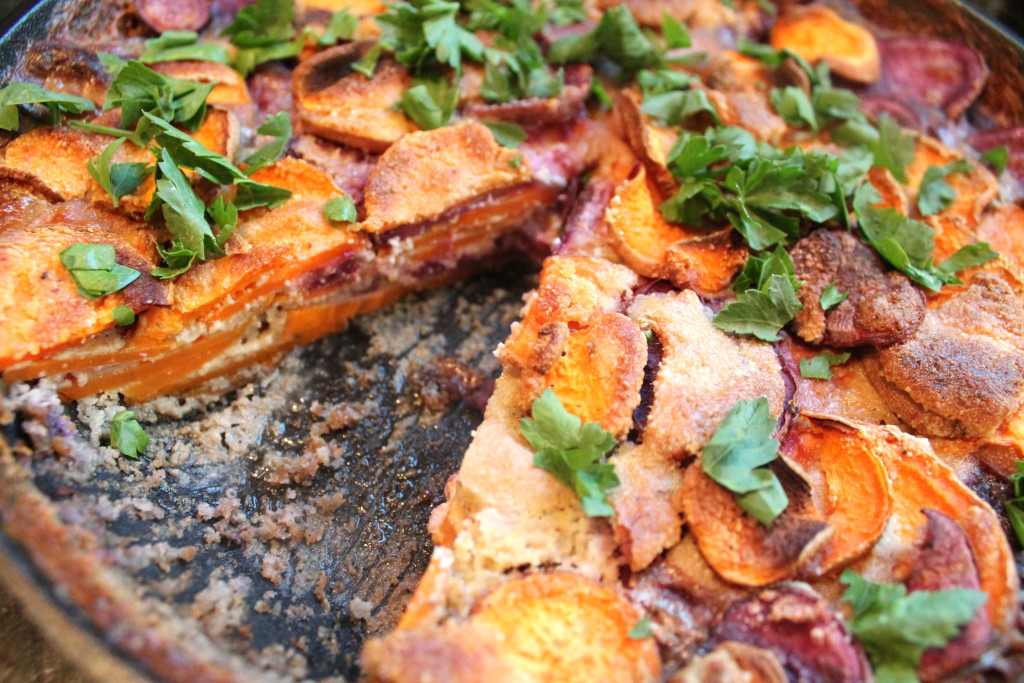 Start with a layer of your thinly sliced sweet potatoes, add a layer of the cheese sauce and repeat until you run out of ingredients. The result is this beautiful, rich-tasting but healthy side dish that Mitch and I loved! It's also really easy to make and looks pretty impressive. Try it!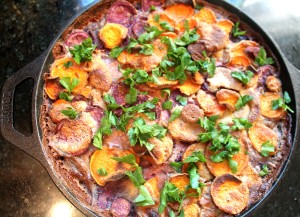 Sweet Potato Gratin (vegan)
2015-06-04 10:10:02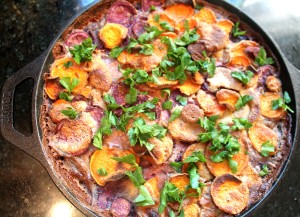 Serves 6
A healthy, vegan, nutrient-dense sweet potato gratin. Perfect if you're looking for something beautiful and impressive to serve as a side dish!
Ingredients
6 small sweet potatoes - sliced thinly with skins on (I used one purple japanese potato for a nice color contrast)
1 cup cashews - soaked in vegetable broth for minimum 1 hour (you will need enough broth to cover the cashews plus about 1 inch which is about 1.5 cups of broth)
1 1/2 cups vegetable broth
1/2 cup unsweetened coconut milk
1 tsp salt
1/2 tsp pepper
1/8 tsp nutmeg
1 tsp garlic powder
1 tbsp fresh lemon juice
2 tbsp butter or coconut oil - 1 tbsp to grease your pan and 1 tbsp melted and poured over your sliced potatoes to help the seasonings stick
1/2 cup fresh parsley as garnish
Instructions
At least 1 hour before making your gratin, soak your cashews in the vegetable broth (you can also soak them the night before or morning of if you remember)
Preheat your oven to 400F.
Grease a large cast iron skillet or casserole dish with the remaining butter or coconut oil
Slice your potatoes into very thin circles and place into a large mixing bowl and toss with your melted butter or coconut oil and season with salt, pepper and garlic powder
Blend your cashews and broth in a blender with the nutmeg, lemon juice and coconut milk until creamy
Start making your gratin by layering your sweet potatoes into a single layer on the bottom of your greased pan - overlap your potatoes so that you can't see the bottom of the pan
Once your first layer is complete, add enough cashew sauce to cover the potatoes, then add a second layer of potatoes and repeat until you run out of ingredients
Place your gratin in the oven and bake for 1 hour or until the top is golden brown
Let sit at room temperature for about 10 minutes to allow the gratin to set-up
Garnish with fresh parsley
Serve warm or at room temperature and enjoy!
healing whole nutrition http://www.healingwholenutrition.com/