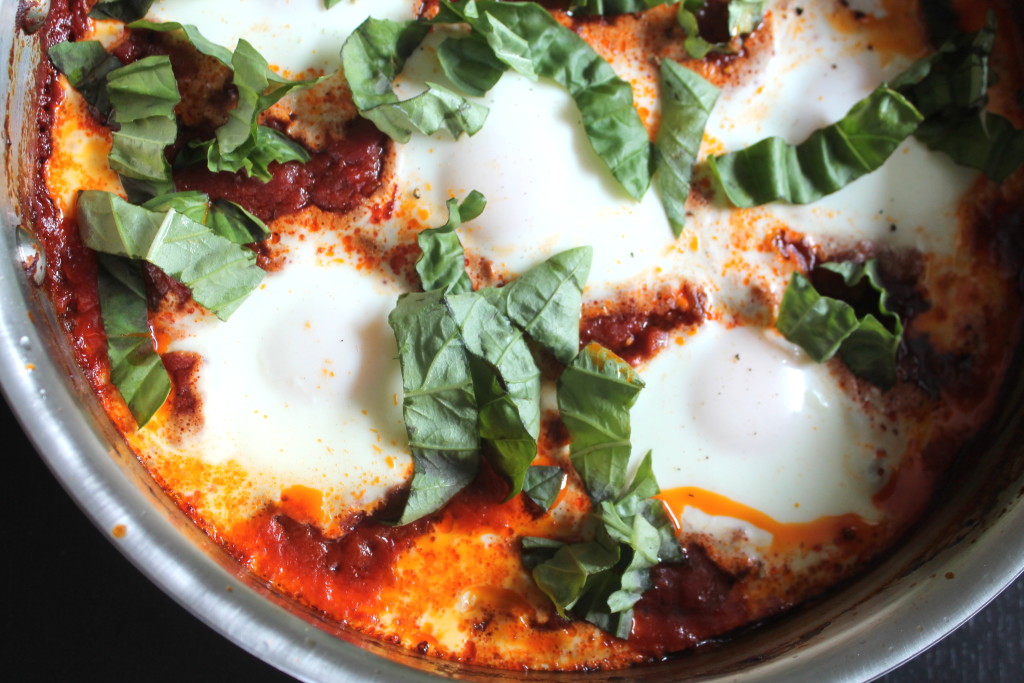 You guys. This dish is one of my favorite's of all time. I say this pretty often, but it really is something I could eat for breakfast, lunch and dinner. It's so versatile! Here's where my inspiration for this dish happened…Last Sunday we went to brunch with two friends who live in downtown Houston. These friends, who we met in Denver, just so happened to get transferred here from London around the same time we found out we were moving. We were really excited to see them, help them celebrate their recent engagement and eat some brunch. I ordered grilled shrimp and polenta with marinara and an over easy egg. As you can imagine, this was the best. thing. ever. and I couldn't stop thinking about it. When I went to create something similar, I didn't want to go to the trouble of making polenta, or shrimp, so I skipped those two things and created a minimal dish with bacon, spicy marinara and soft baked eggs. It's one of the easiest and most delicious things to ever come out of my kitchen.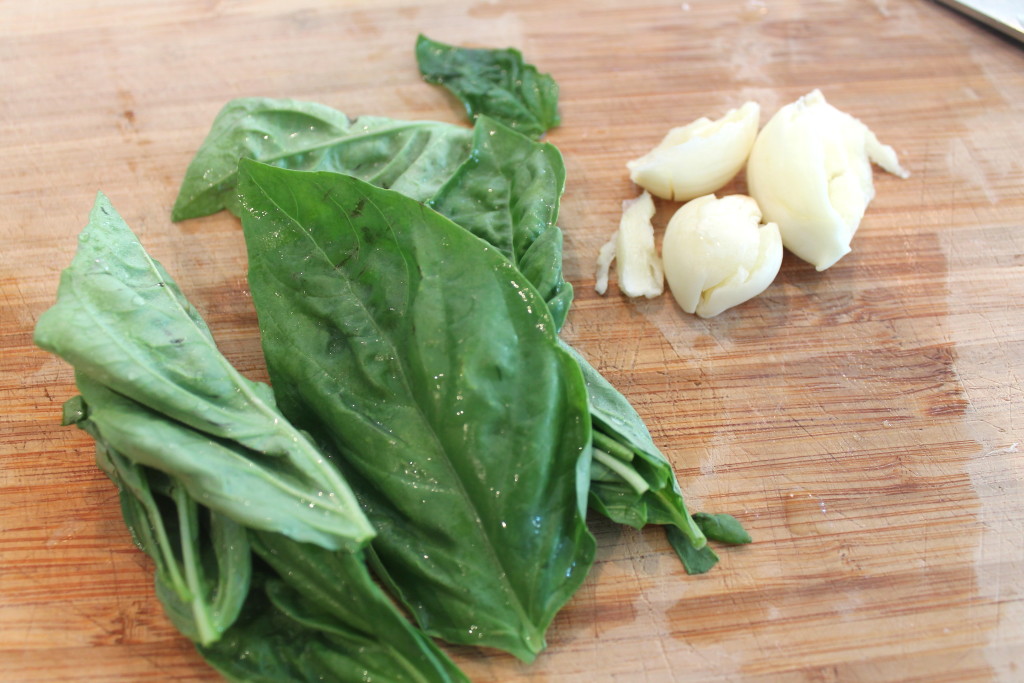 Not only did we love the flavor of these baked eggs, but it all comes together in one dish, doesn't involve that many ingredients and I used a jar of spicy arrabiata sauce(spicy marinara) to make it even easier. All you do is chop your bacon, onion and garlic, and saute them until they are golden. Then you add your tomato paste and jar of tomato sauce and let that simmer for a minute or two. At that point, it's already time to crack your pastured eggs from very happy chickens onto your sauce and bake in a 400 degree oven. That simple! I served mine over spinach and Mitch chose a sweet potato. I stole some of his, and the sweet potato is genius. The sweet of the potato, spicy of the sauce and creaminess of the egg go perfect together.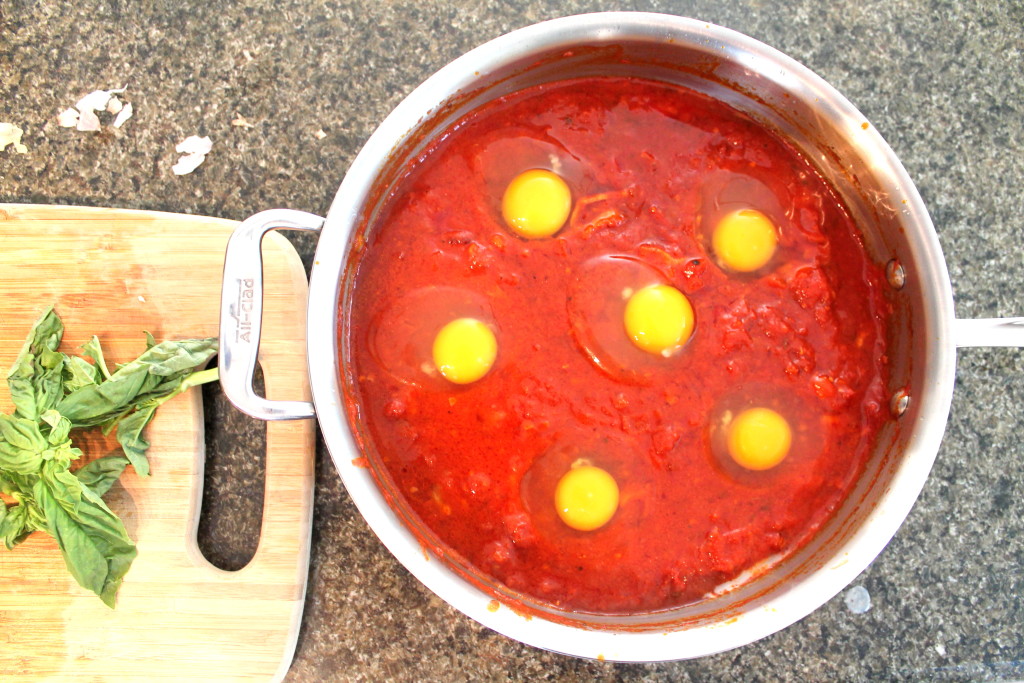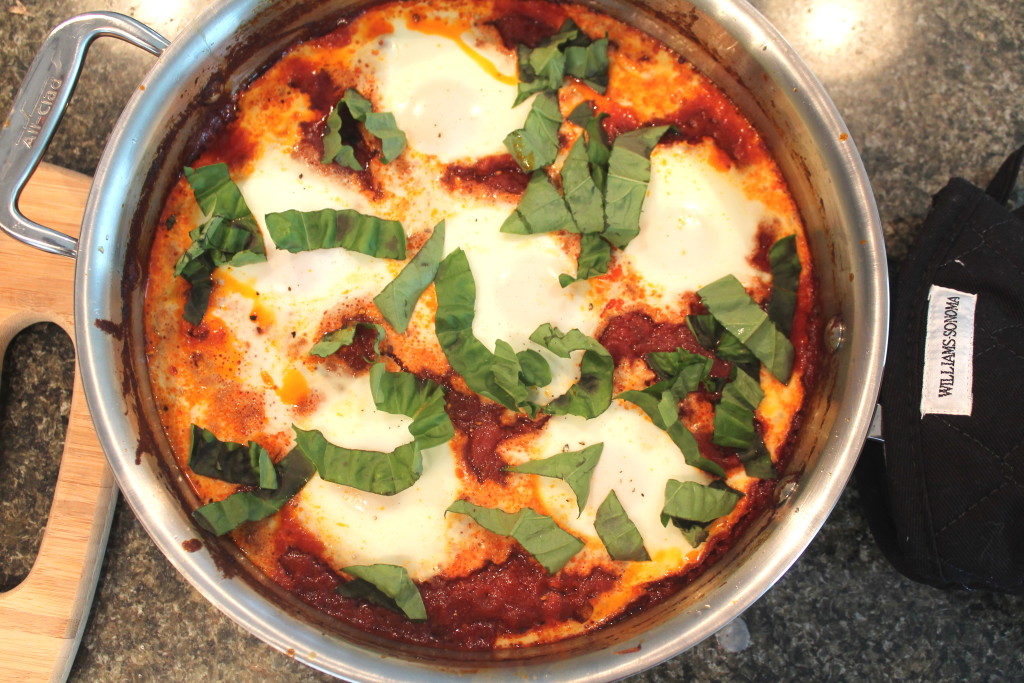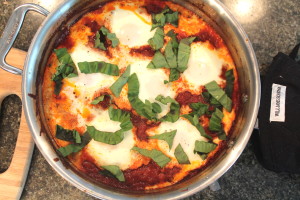 Spicy Baked Eggs
2015-08-25 11:54:01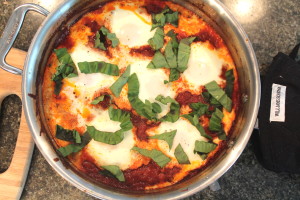 Eggs baked over a spicy, rich bacon marinara
Ingredients
1 jar arrabiata sauce (a spicy marinara)
4 slices bacon (optional, but I loved the flavor this gave the sauce) - cut into 1/4 inch pieces
1 onion - diced
3 cloves garlic - minced
1 tbsp coconut oil
1 tbsp tomato paste
6 eggs - you can use as many or as few as you'd like - Mitch ate 4, I ate 2
10 basil leaves - chopped for a garnish
Instructions
Preheat your oven to 400 degrees
Dice your onion, slice your bacon slices and mince your garlic and set aside (chop the bacon as soon as it comes out of the fridge so that it's easier to cut)
Heat a large skillet on medium heat and add your coconut oil
Add the onion and bacon to the oil and saute for about 5 minutes until the onions start to soften
Add the garlic and cook another few minutes - be sure not to let the garlic burn or it will become bitter
Add the tomato paste and stir to combine - allow to cook for another minute
Pour your jar of sauce into the pan and stir
Using your spoon, create little "wells" for your eggs in the tomato mixture
Gently crack your eggs into each well
Bake for 10 - 15 minutes - see notes
Serve over spinach or a sweet potato, or both!
Notes
If you like the egg yolks to be a bit runny - bake for about 10 minutes, or until the whites the cooked through
If you like the egg yolks a bit harder - cook for the full 15 minutes
UPDATE
I make this recipe almost weekly, and have found that it's almost easier to poach the eggs in the tomato sauce mixture. I add the eggs to the tomato sauce then place a lid on it for about 10 minutes, until yolks are soft and the whites aren't clear.
Adapted from How Sweet Eats & Brunch at CRISP Houston
Adapted from How Sweet Eats & Brunch at CRISP Houston
healing whole nutrition http://www.healingwholenutrition.com/