I went to write this post yesterday. It was the best gloomy, thunderstormy day in Houston and it was the perfect weather to sit down and get some work done. Then our wedding pictures arrived (as some may know from instagram) and all plans went out the window. Our photographer is known for capturing not just the photos of your day, but the "story" and it was like I was reliving our wedding all over again as I went through the many candid pics. So fun! I am debating putting up a wedding post, so stay tuned! Anyways, back to the grind today. June has a doggy "interview" at a new day care at noon, which is completely off topic but worth mentioning for how ridiculous it is. It's 30 mins – what could we possibly do for that long?! Not to mention, she needed a new type of collar for said interview. One of my best friends thinks I am crazy for even taking her to day care every now and then, but June is a mastermind of guilt tripping and just lays a few feet away from me and stares at me while I work.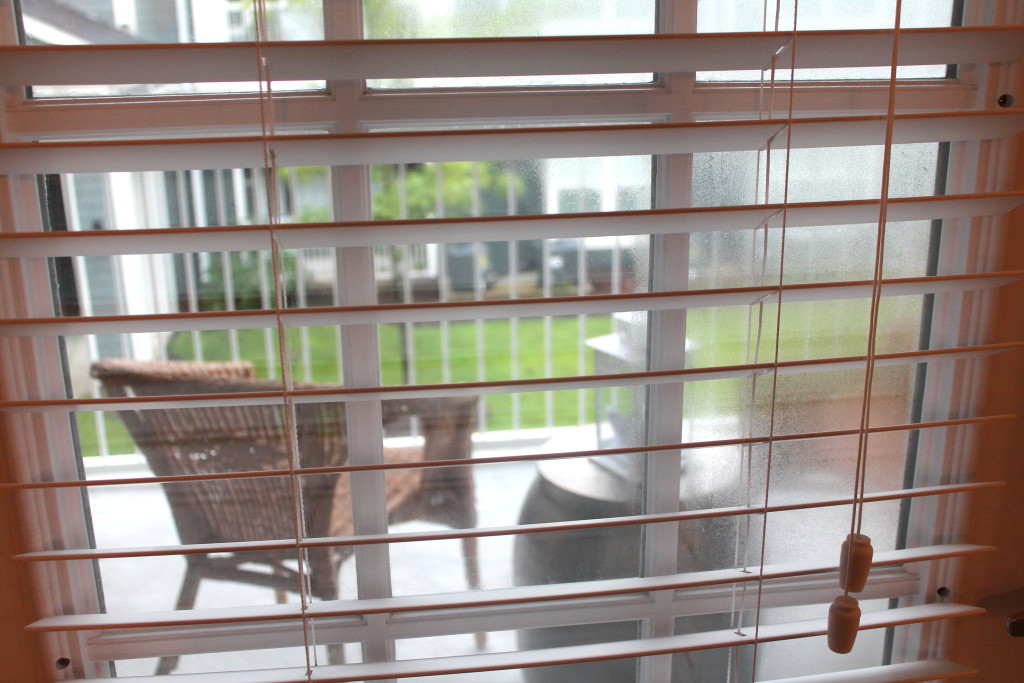 But anywho, today we're talking about two different recipes! One for little delicious cookie dough bites that I make pretty often, and another for coconut peanut butter ice cream. I combined the two and it was amazing. It may or may not have been inspired by a recent trip to DQ when my mom was here. I got a cookie dough blizzard (it had been years since I tried this) and it was actually really disappointing. The cookie dough pieces tasted weird and I felt awful when I was done eating it. I am vowing to only get my simple swirl cone if I go back. These cookie dough pieces are anything but weird. They are made with real, healthy (minus the chips) ingredients and I don't feel terrible eating them for snacks. I used GF oats, cashews and real maple syrup to make these, but I have used peanuts to make them tree nut free and they have worked great. I imagine any nut or seed would work, but haven't tried it.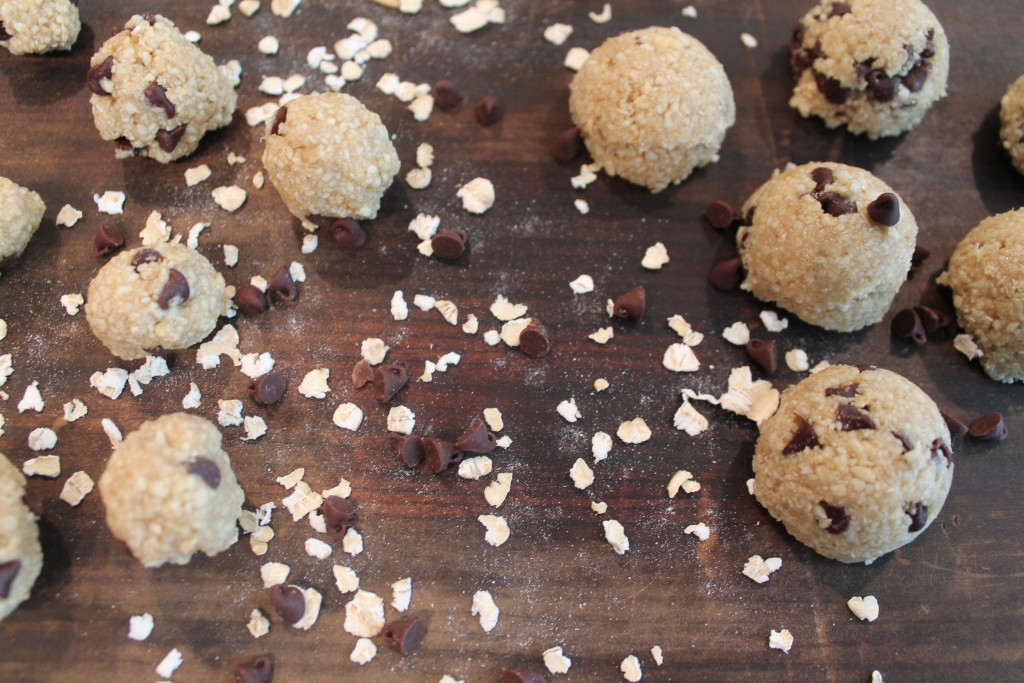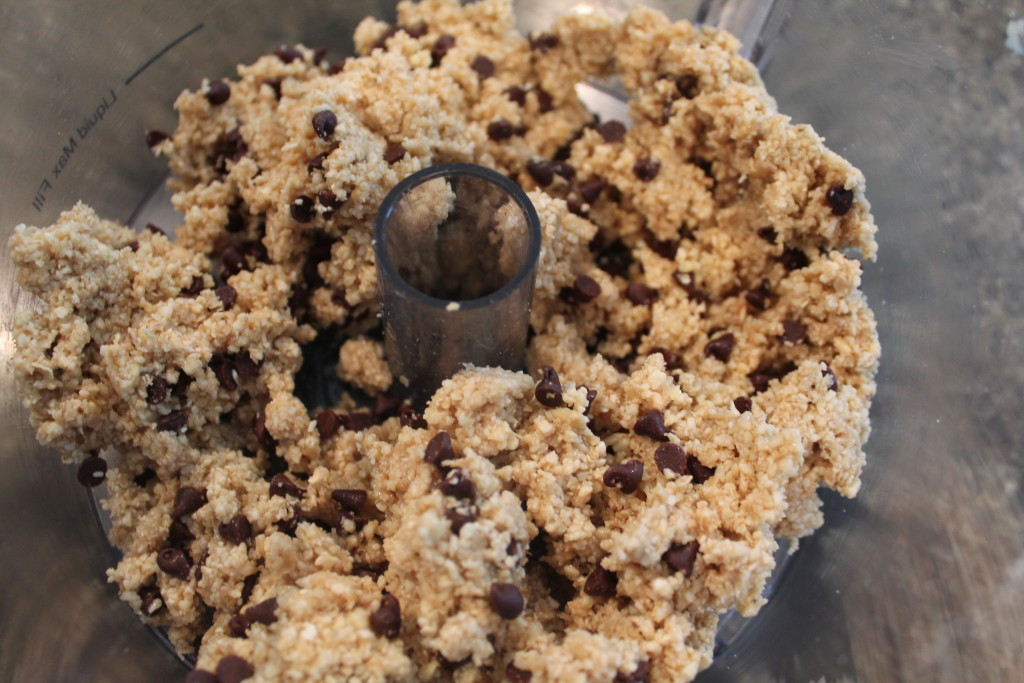 Onto the ice cream. You may remember the first time I attempted paleo, no-churn coconut ice cream. This ice cream is delicious! It's the same base as the first ice cream – organic coconut milk, raw honey, salt and vanilla, but this time I added PEANUT BUTTER and my little chocolate chip cookie dough bites. The peanut butter seems to make the ice cream creamier than the blackberry chip flavor I made last time, but I also learned that you need to let the ice cream sit for about 30 minutes (we've been setting ours out while we eat dinner..) before you eat it. The consistency loses that icy feel and gets creamier.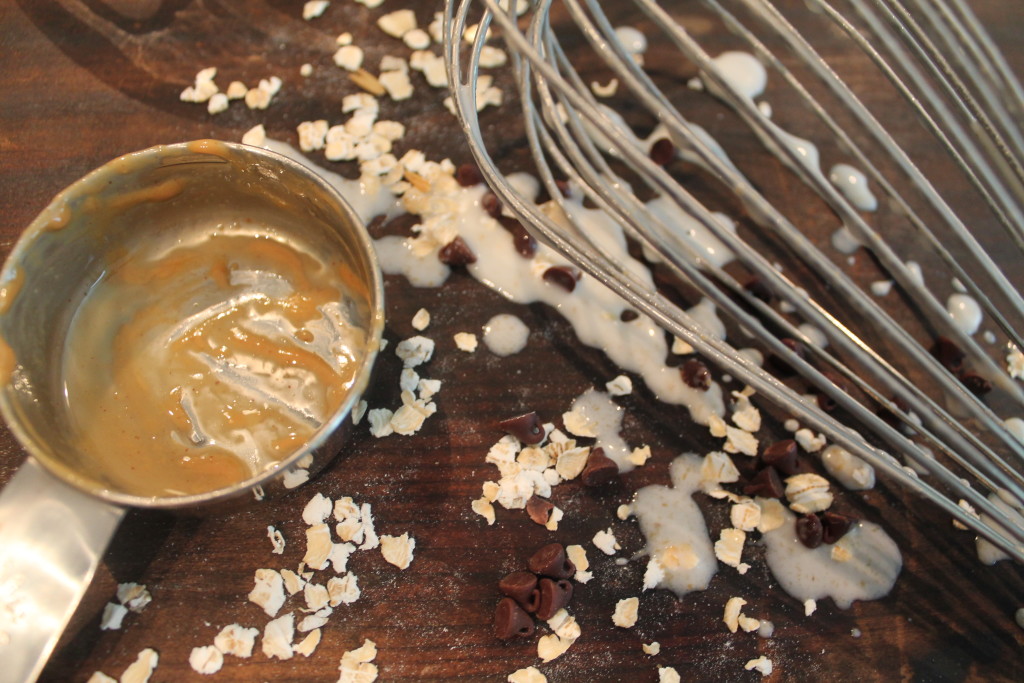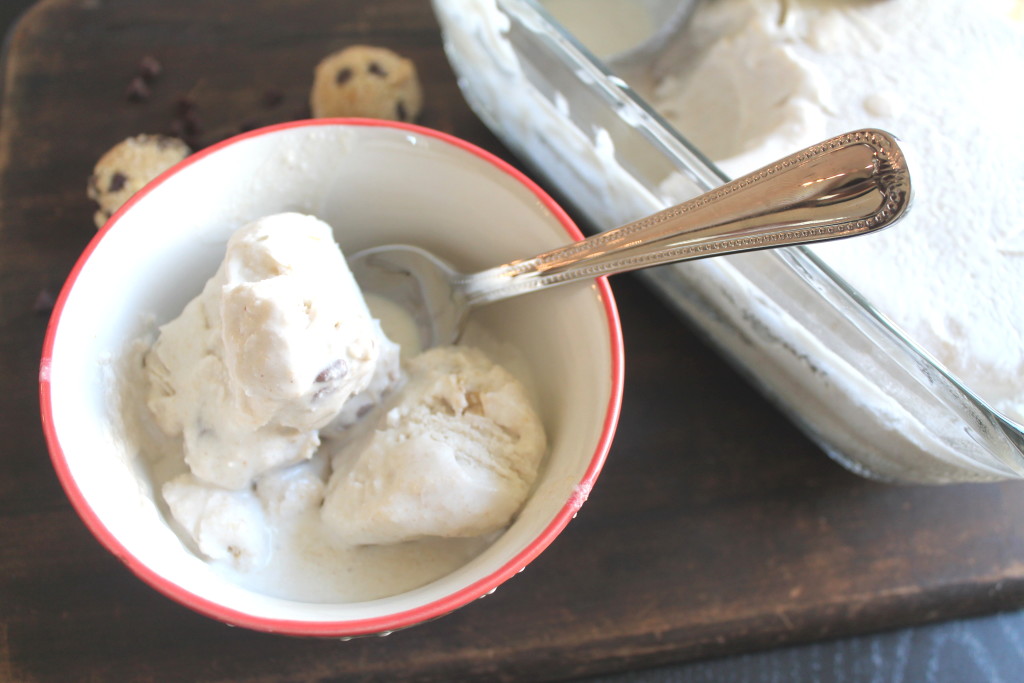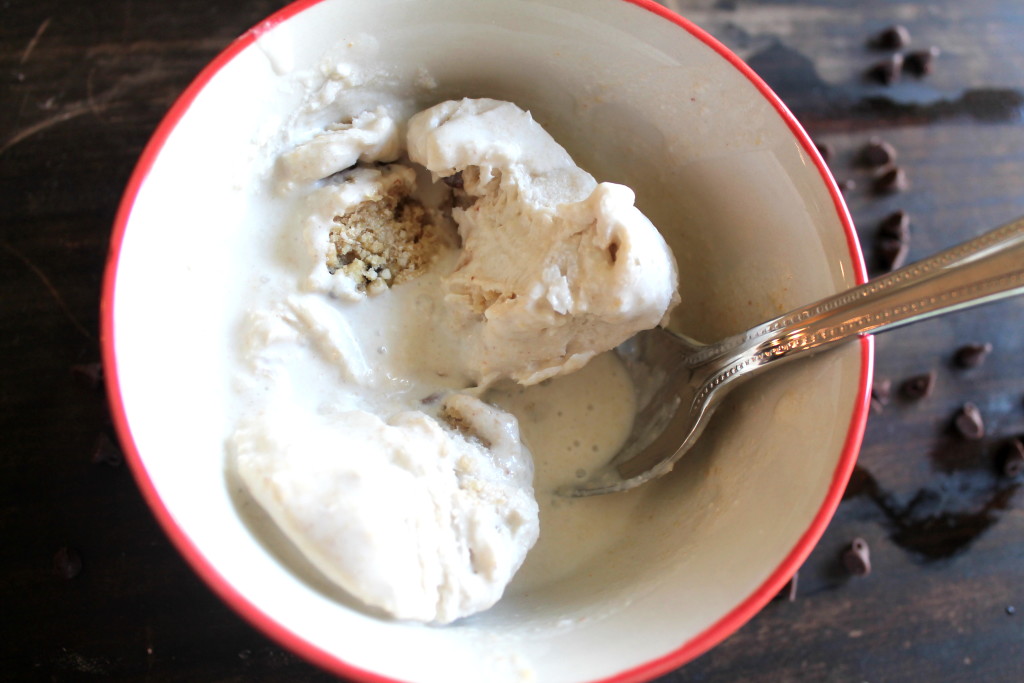 The main reason this recipe is so amazing is because it's healthy. Yes the maple syrup and the honey add sugar content, but both sweeteners are unprocessed and much healthier than the sugar that is used in alternative ice creams and cookie doughs. The coconut milk also adds healthy fats that you normally wouldn't get from conventional ice cream. Lastly, the cashews used in the cookie dough are also mineral dense and high in antioxidants. I'm not suggesting eating this for breakfast (although, I have this week), but as a treat, it's a great option!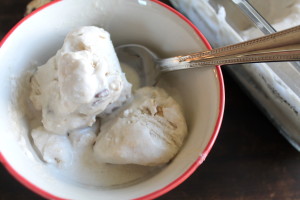 Peanut Butter Chocolate Chip Cookie Dough Ice Cream
2015-08-21 08:35:18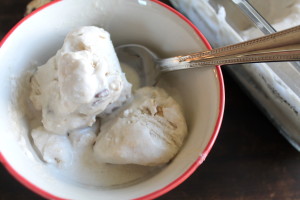 Ingredients
Cookie Dough Bites
2/3 c raw cashews (peanuts work well! you could also try other nuts or seeds but I haven't)
1/3 c GF oats
3 tbsp real maple syrup or honey
1 tsp vanilla extract
1/4 c dark chocolate chips (I used mini)
pinch of salt
Coconut Peanut Butter Ice Cream
2 cans full-fat organic coconut milk
1/4 c honey
1 tsp vanilla extract
1/4 tsp salt
1/4 c peanut butter or almond butter
Instructions
Cookie Dough Bites
Using a food processor or blender, blend the oats and the nuts into a fine powder - don't overblend or else you may turn the nuts into butter
Add the maple syrup, vanilla and salt and blend in short bursts or pulses until combined
Stir in the chocolate chips
Wet your hands and start rolling the dough into small balls (I ended up using the smallest cookie scoop I owned and that was so much easier)
Place into a tupperware and freeze for snacking or set aside if you are adding them to your ice cream
Coconut Peanut Butter Ice Cream
Add all ingredients into a large microwave-safe bowl and heat for 30 seconds (this makes the honey and peanut butter easier to combine)
Using a large whisk, combine all ingredients and pour into a bread pan
If you are adding cookie dough bites, now is the time to add those - they will sink to the bottom
Freeze the ice cream for at least 4 hours
Before serving, let it sit on the counter for at least 30 minutes to soften - this will improve the texture
Notes
To make this recipe tree-nut free - use peanut butter for the ice cream and peanuts in your cookie dough!
healing whole nutrition http://www.healingwholenutrition.com/