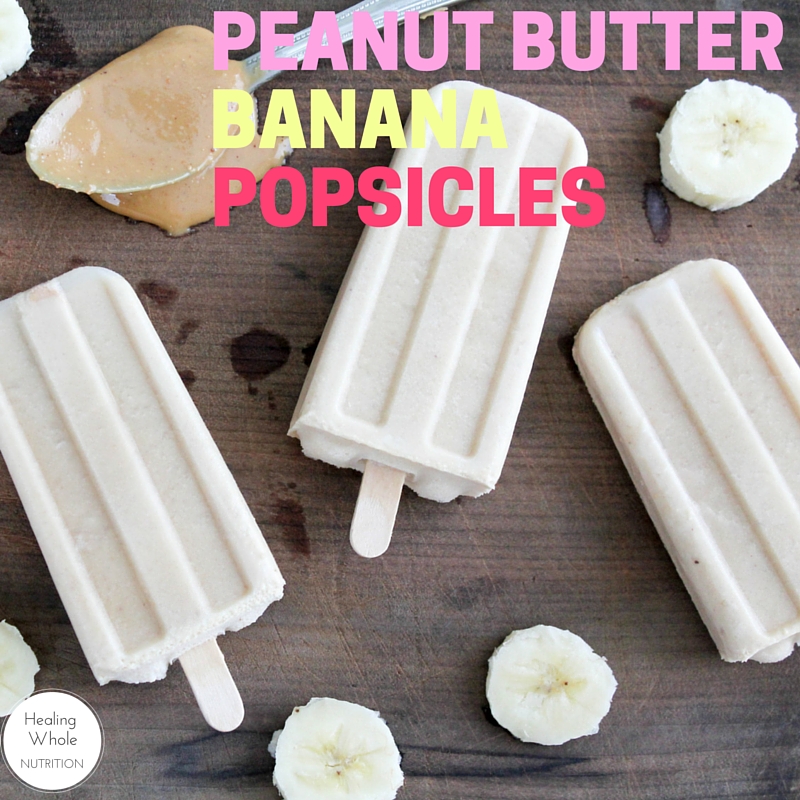 Happy Thursday ya'll! Today I bring you popsicles. With July almost over (whhatt), I figured I needed to get some last minute summer recipes up on the blog. For us Texans, our summer isn't over for at least a few more months, so we will be needing these longer than most! I hate counting down the days of summer and willing July and August to be over, but it's just the way it is down here. I can't wait for the day that we can have our windows open all the time and go for walks without melting in the 105 degree heat and humidity! I also get to meet these twins come fall, so that makes me even more anxious:)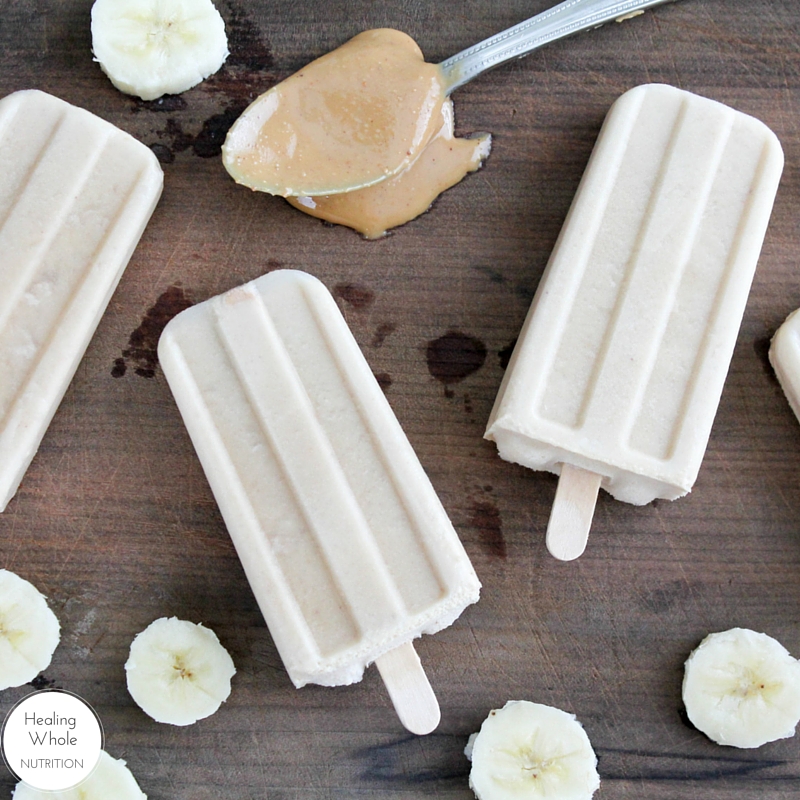 These popsicles are SO good! I love peanut butter and bananas, so I knew these would be delicious, but I was surprised how creamy they came out. I used whole milk for mine since I love all the dairy lately, but coconut milk (the full-fat kind) would be really good too. I actually have a really good friend who is getting married in a couple weeks and we're working on lowering her sugar intake, so her fiance made her this recipe, minus the banana to cut back on sugar, and she loved them! I love the versatility of popsicles and you can really play with whatever you have on hand.
Popsicles are also obviously a kid's dream throughout the summer months, and these are a great alternative to the store-bought variety. They take 5 minutes (aside from the freezing part), and you will be able to trust and know each ingredients going inside your kiddos's bodies. The whole milk and peanut butter will also give them a nice boost of protein and calcium to keep them going throughout the day, opposed to the sugary, fruity popsicles most of us are used to. Enjoy!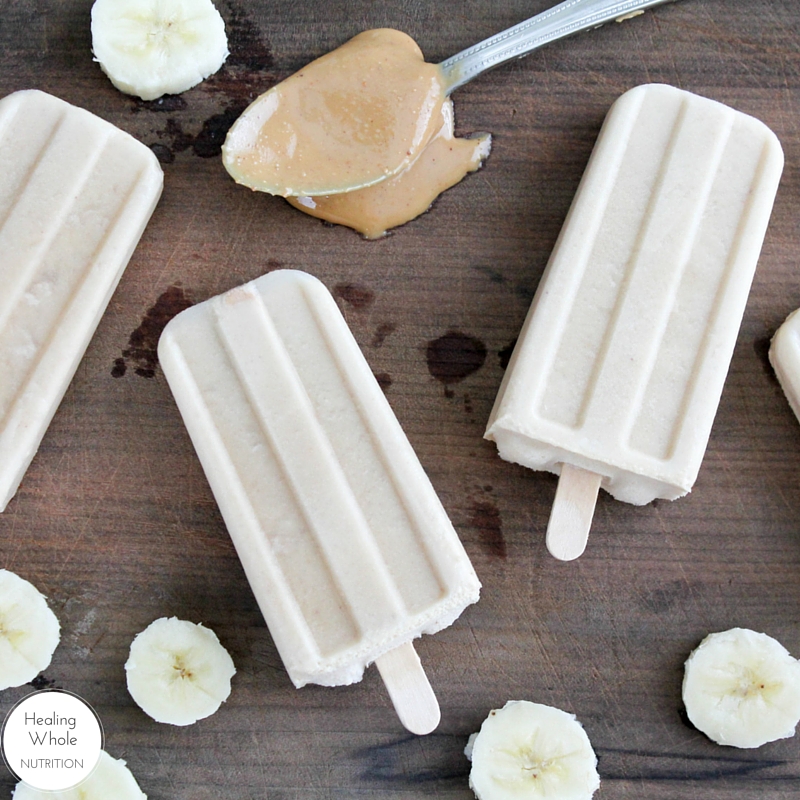 Peanut Butter Banana Popsicles
2016-07-14 08:50:29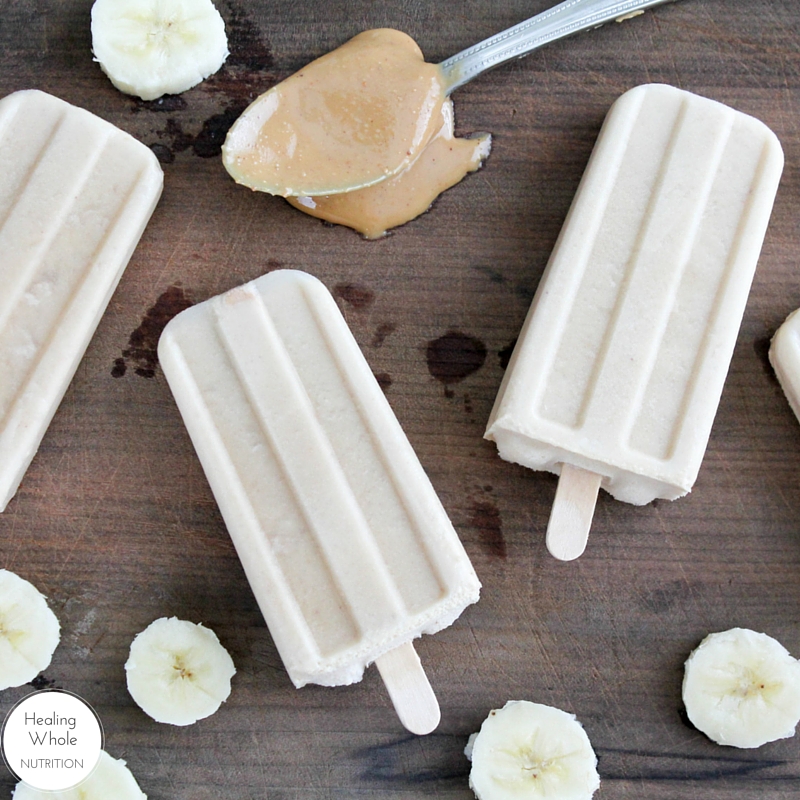 Creamy, peanut-buttery banana popsicles perfect as a healthy treat for kiddos but also perfectly delicious for adults!
Ingredients
1 fresh ripe banana
1 1/2 cups milk (I used whole milk, but coconut would work great as a vegan option)
2 Tbsp peanut butter (or almond butter)
1/8 tsp salt
1/2 tsp vanilla
Instructions
In a high speed blender, combine all ingredients until smooth
Add the mixture to popsicle molds, then freeze for at least 8 hours
Enjoy!
healing whole nutrition http://www.healingwholenutrition.com/