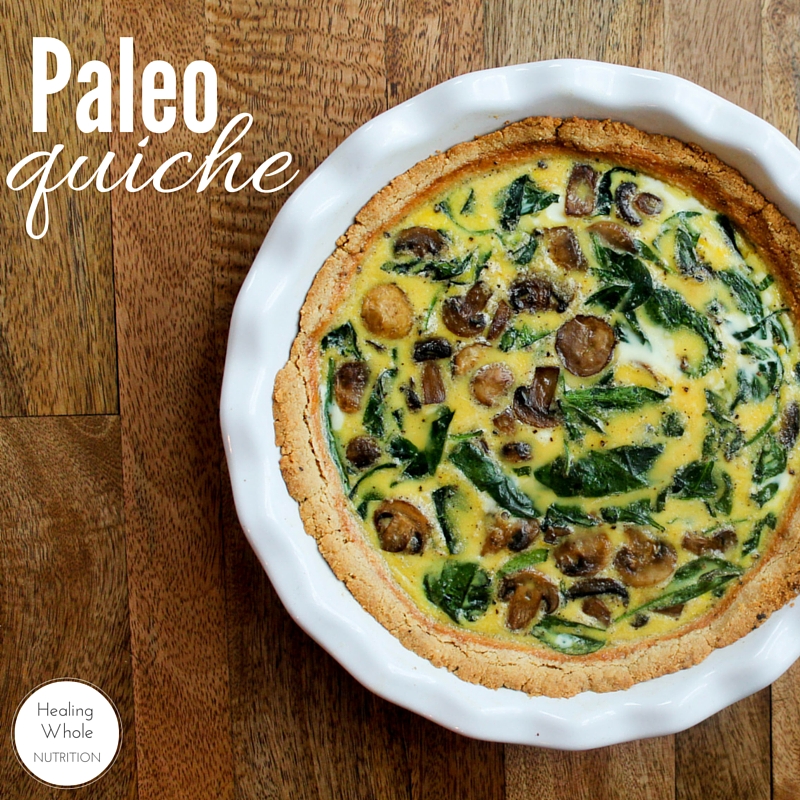 I've been waiting to share this recipe with you guys. Mainly because I couldn't seem to master "quiche photography" and I wanted the photos to really show you how good this dish is. I made it for the first time for a brunch with friends and everyone loved it (minus my mushroom hating friend) and I was so happy with how it turned out! I love serving quiche at brunches but when I started eating more paleo I started serving crust-less quiche and it was not. the. same. Crust-less quiche is essentially a large scrambled egg and not a quiche at all. No one ever complained about said large scrambled egg, but I know most people were missing their buttery crust. Enter this fantastic gluten, grain and dairy free version. Be still my quiche-loving heart.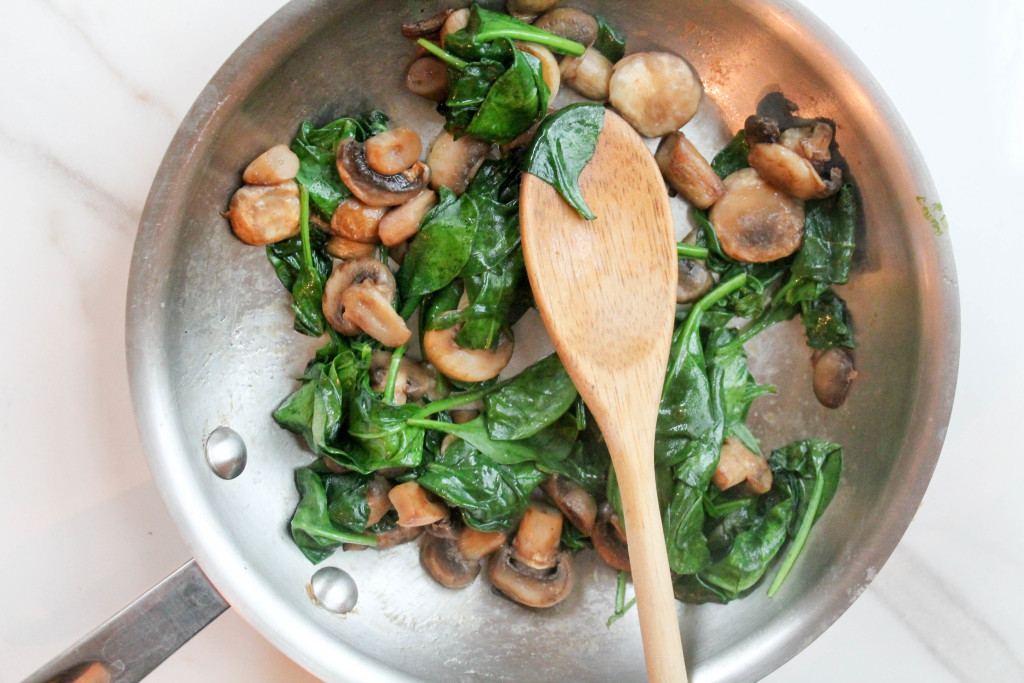 Quiche is versatile and can easily be served for brunch, lunch or dinner. The other day I saw a picture of someone serving quiche for a dinner party with lots of red wine and I thought it was genius. Probably because wine and quiche are two of my favorite things, but I think it would be a fun dish to serve for a dinner and I might just have to steal their idea.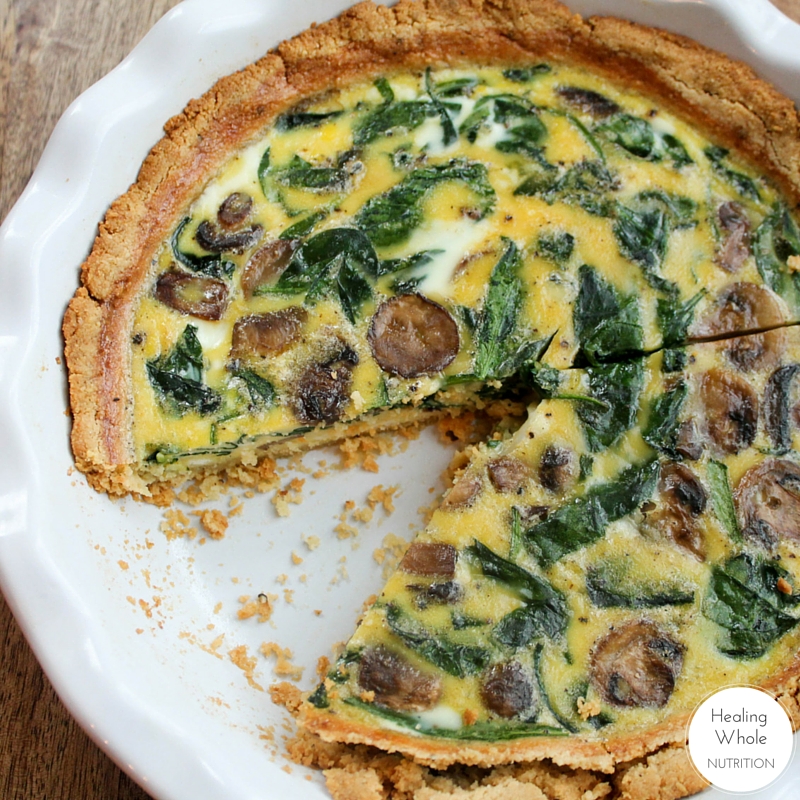 The almond flour crust I used for this recipe is grain and gluten free and the filling is dairy free, making it paleo friendly and virtually guilt free:) I've been making it weekly so I have something healthy and easy for breakfast and I'm loving the time it's saving me. The options are endless with this dish and I know you'll love it!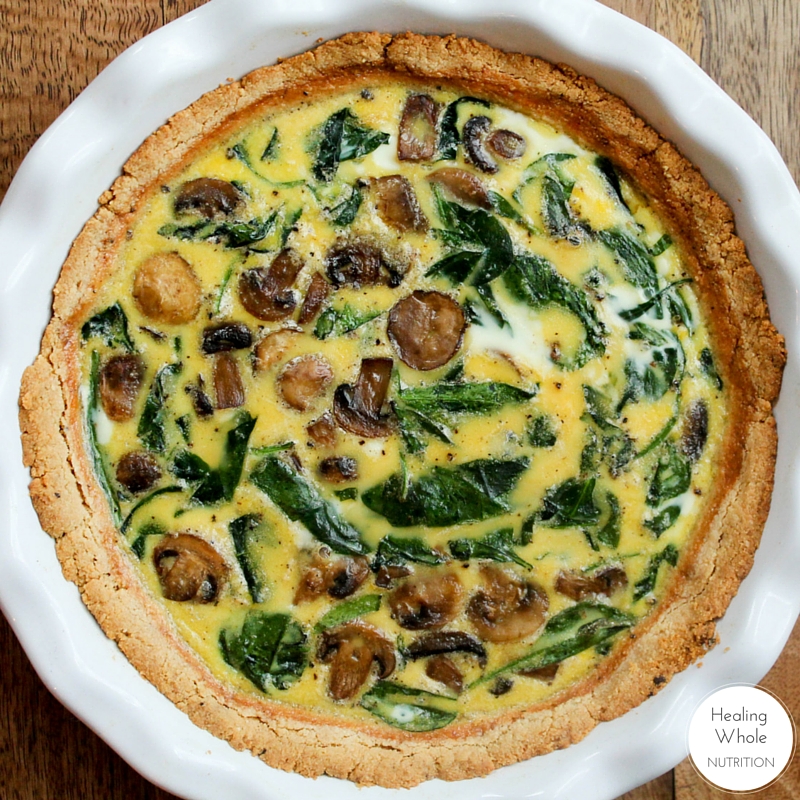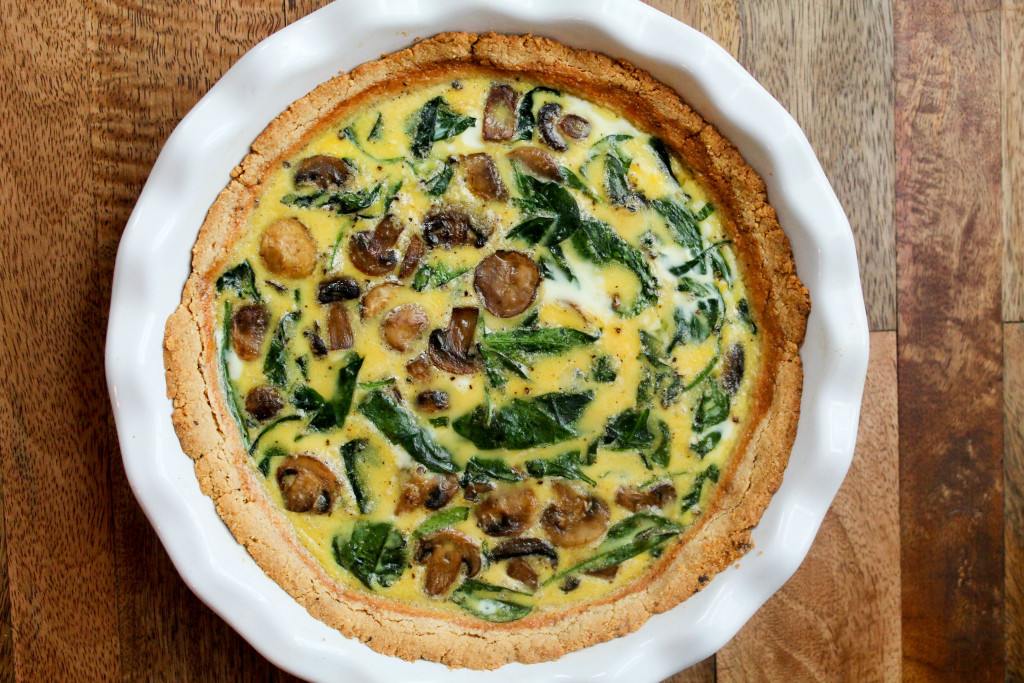 Paleo Mushroom Quiche
2016-02-23 11:20:34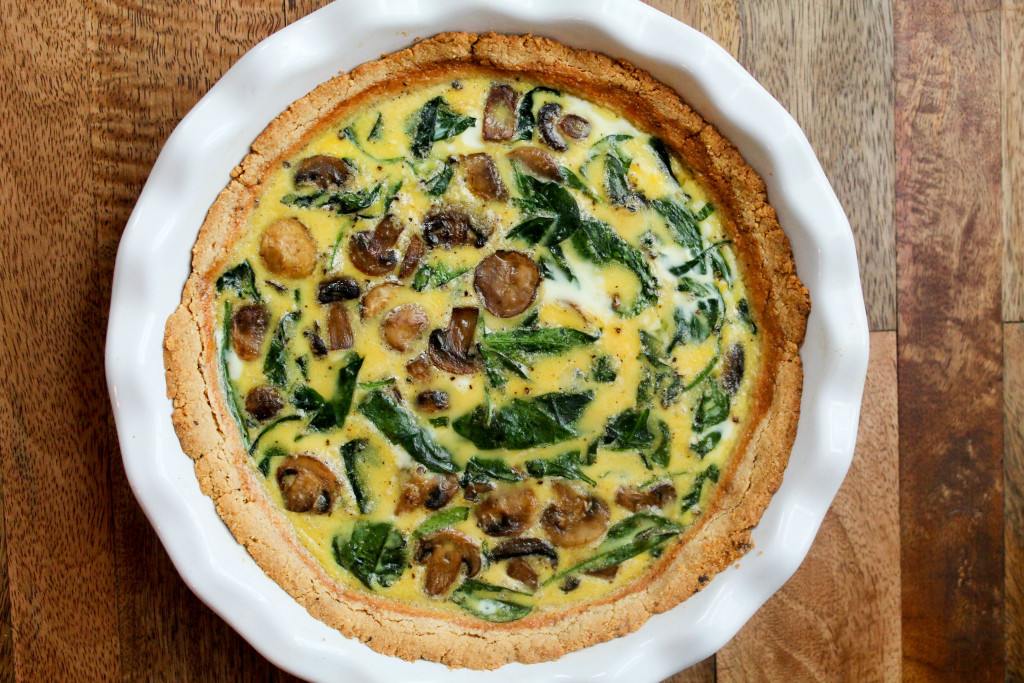 Serves 4
The most delicious healthy quiche! The almond flour crust is gluten and grain free and the entire recipe is dairy free. It's an impressive dish to serve to guests and one of my favorite things to snack on throughout the week.
Ingredients
For the Gluten Free Crust
2 cups almond flour
3 garlic cloves - minced
1/2 tsp salt
1/4 tsp pepper
1/3 cup olive oil
1/8 tsp red pepper flakes
1 tbsp water
For the Egg Filling
6 pastured eggs
1/3 cup non-dairy, unsweetened milk - I used unsweetened coconut milk
1 cup button mushroom - sliced
2 cups spinach
1/2 tsp coconut oil
salt and pepper
Instructions
Preheat your oven to 350F.
Grease a large 10" pie plate with coconut oil and set aside
In a large bowl, combine all of the crust ingredients
Press the dough ball into the pie dish, creating an even layer and making sure the crust goes up about 1/2 inch onto the sides of the dish
Place in the oven and bake for 20 minutes, then remove and set aside
While the crust is baking, make your egg filling
Preheat a small saute pan on medium heat
Add the coconut oil and mushrooms and season with salt
Saute the mushrooms for about 5 minutes, then add the spinach when the mushrooms are just about done and allow to wilt. Set aside.
In a medium sized bowl, whisk together the eggs, milk, salt, pepper and mushrooms and spinach
Pour the eggs into the crust and bake for another 30 minutes, or until golden brown
Let the quiche sit for about 5 minutes before cutting and serving
healing whole nutrition http://www.healingwholenutrition.com/