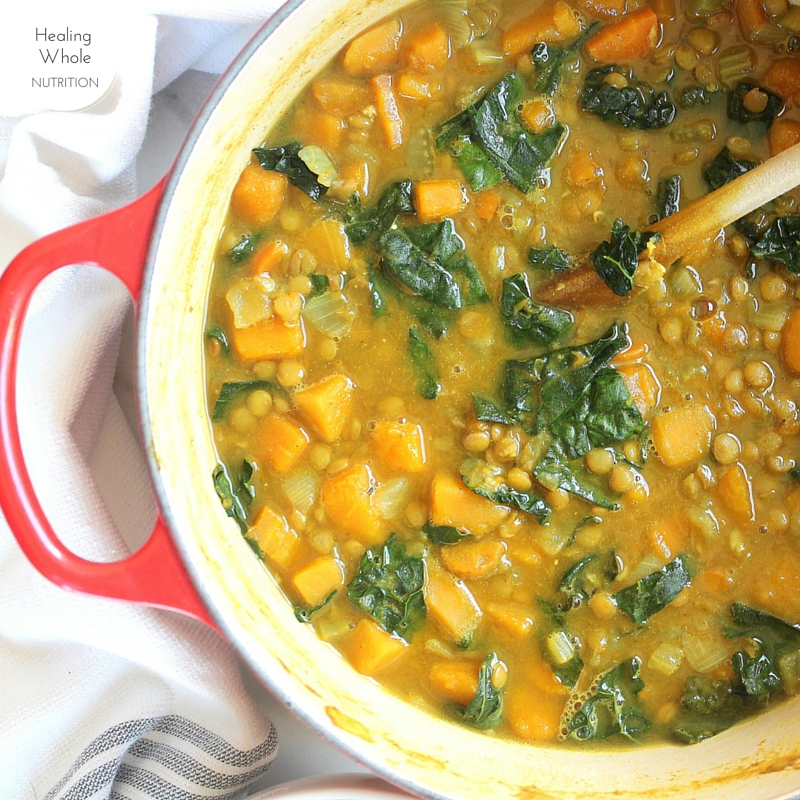 Detox season is among us. People are all-consumed with losing those Holiday cookie lbs, working out every day, and keeping those health-conscious New Years Resolutions. Like I mentioned a few days ago, I still haven't sat down and thought about my 2016 goals, but I know there are some diet and lifestyle changes I could make. I want to eat more plant-based foods, consume less sugar, and begin to think about losing my cup of joe in the mornings. As a Nutrition Therapist, I feel that I need to scale back on the caffeine so I can be an example for others, but it's SO hard. I feel you, coffee lovers/addicts. Which brings me to this soup. Full of butternut squash, antioxidant-rich kale and fiber-filled lentils, it's the perfect soup for anyone trying to make healthy changes in the new year.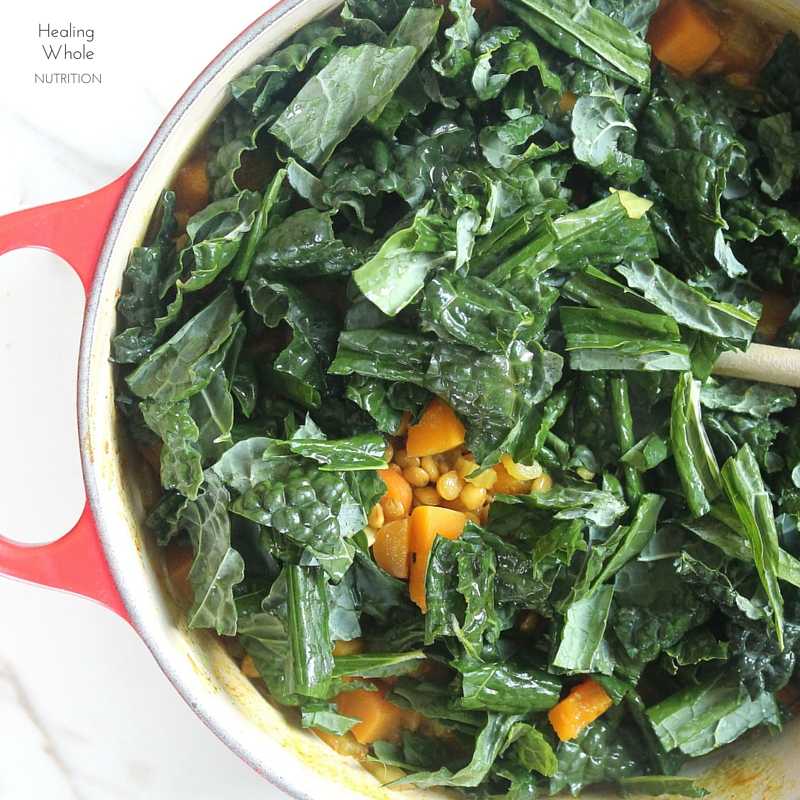 I got the idea for this soup on our flight home from Ohio a few weeks ago. When we go to Ohio my mom usually gets us guest passes to Lifetime, the gym her and my dad belong to. It's a huge gym that has anything you could need (including the most delicious $7 protein shakes) and their own magazine they send to members on a monthly basis. My mom sent me with a stack of these for the plane ride and they have the best, whole-food based recipes, which is where I found a soup similar to this one and knew I wanted to try it.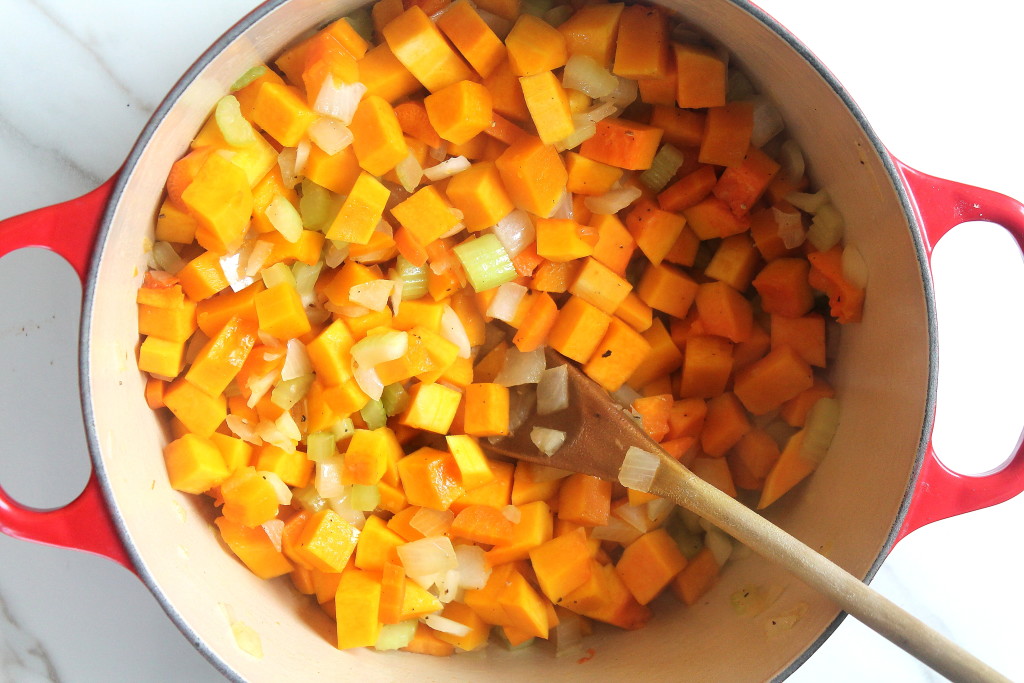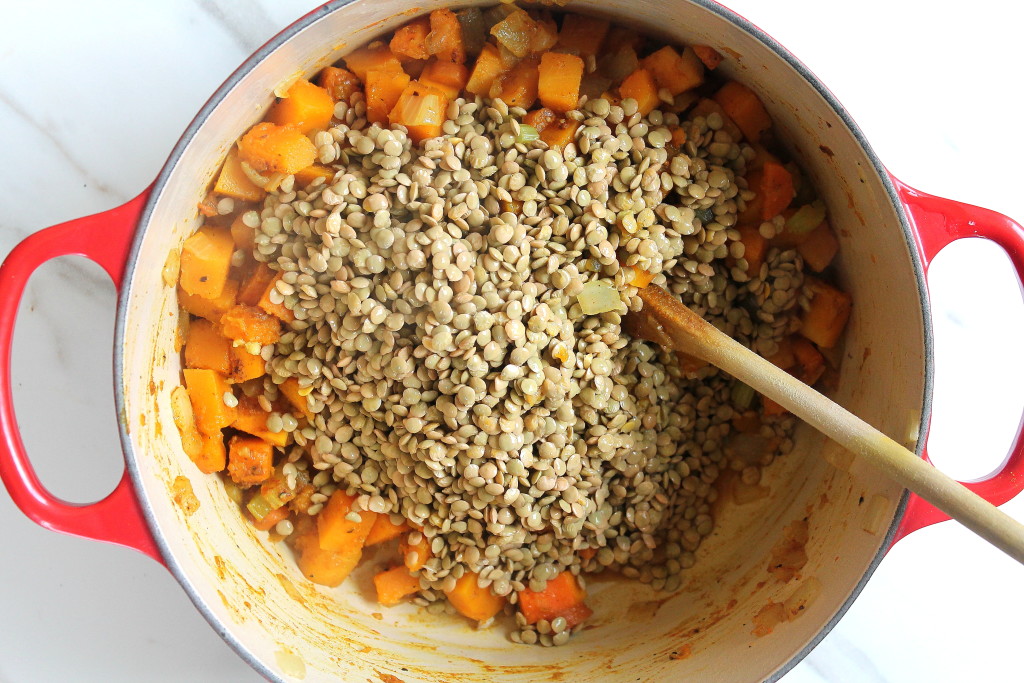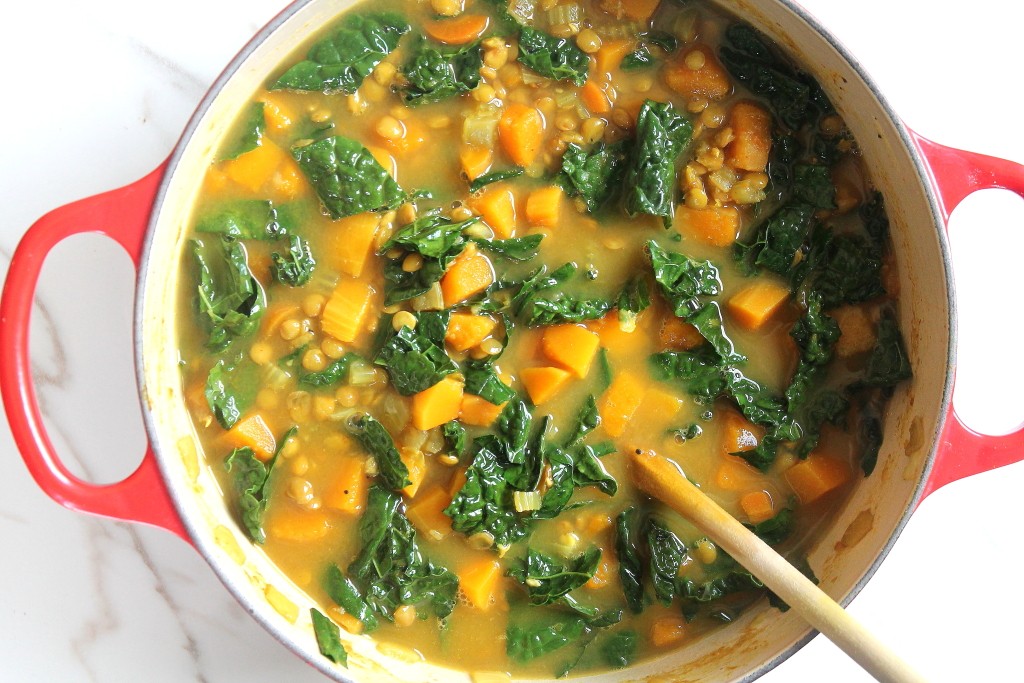 This soup has so much flavor thanks to a wide array of spices, and the dino kale gives it a lot texture next to the creamy squash and lentils. This recipe may not be paleo (lentils aren't paleo), but you won't be missing out on protein. Lentils have 10g of plant-based protein and 11g of fiber in just 1/4 cup, making them a perfect and satisfying option for vegans, vegetarians and meat-eaters alike. Enjoy!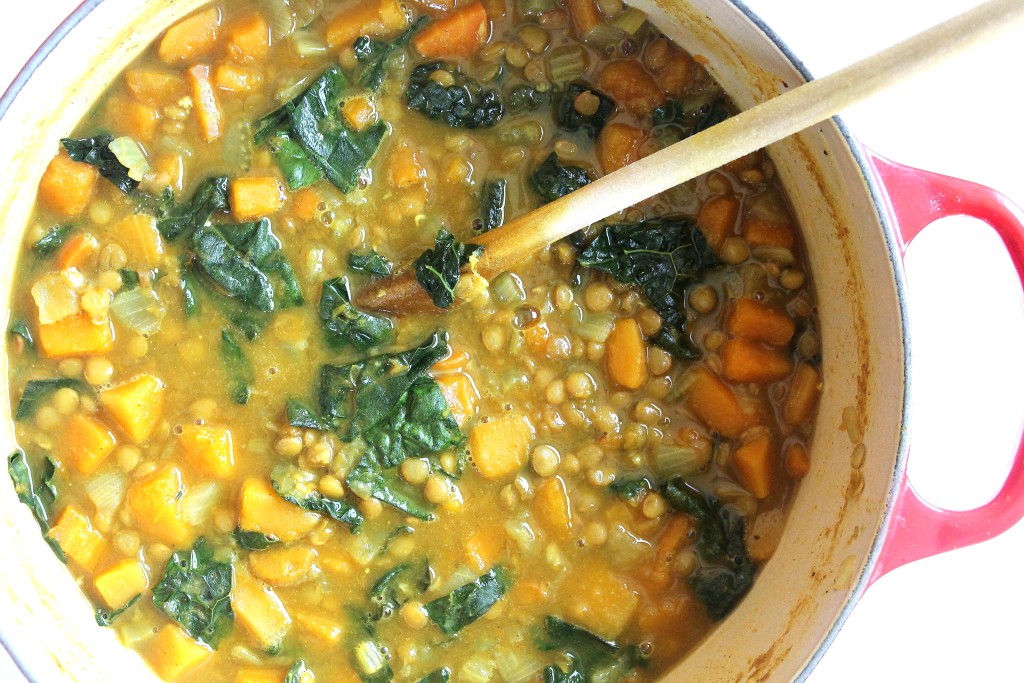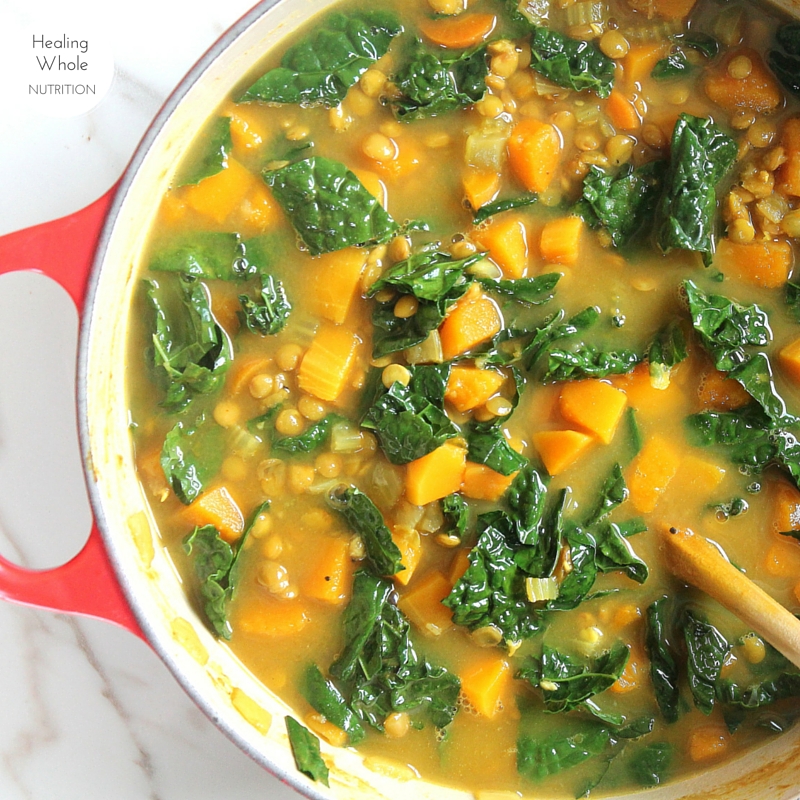 Detox Kale Butternut & Lentil Soup
2016-01-05 14:29:09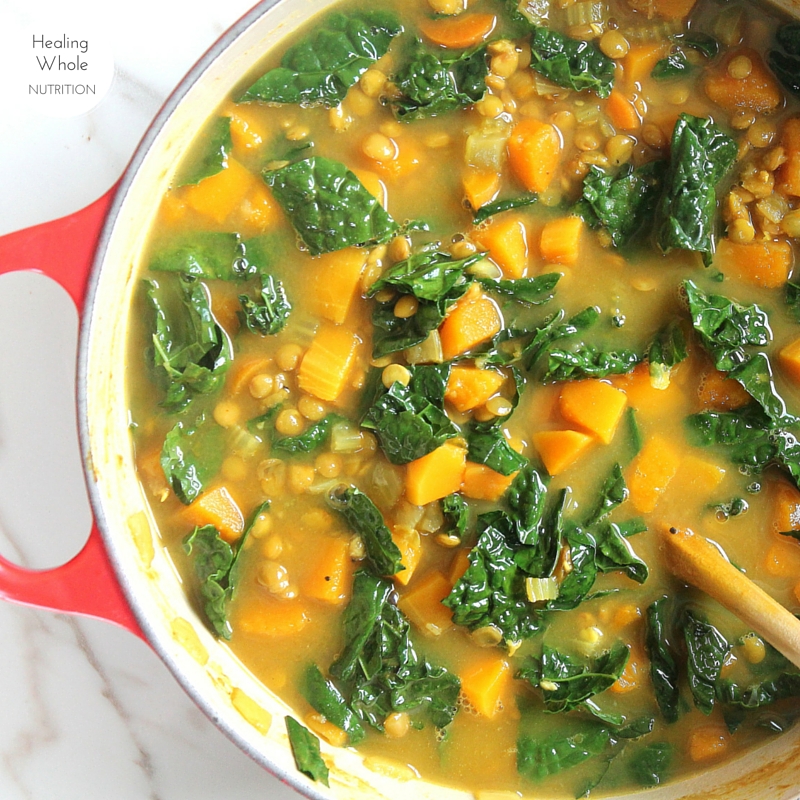 Serves 4
Healthy, flavorful and full of detoxing ingredients, this lentil soup is a new favorite in our house.
Ingredients
1 butternut squash - diced
1 onion - diced
2 carrots - diced
2 ribs celery - diced
3 cloves garlic - minced
1 1/2 cups green lentils
2 tbsp coconut oil
1 tbsp salt
1 tsp black pepper
1 tsp yellow curry powder
1 tsp ground cumin
1/2 tsp ground turmeric
1/4 tsp ground coriander
1/4 tsp ground cinnamon
1/4 tsp cayenne pepper
6 cups low sodium veggie broth
6 handfuls of kale (I used Dino aka Lacinto kale because I love the texture)
Instructions
Preheat a large dutch oven or soup pot over medium-high heat
Add the coconut oil and allow to melt (but don't overheat it)
Add the diced butternut, celery, carrot and onion to the soup pot and season with salt and pepper
Cook until the veggies are soft - about 5 minutes
Add the garlic, uncooked lentils and all spices and stir to combine
Add the veggie broth and bring to a boil, then turn down the heat and allow to simmer for about 15 minutes, or until the lentils are soft
Add the chopped kale, or baby kale leaves, and allow them to wilt and cook for a few more minutes
Serve hot
I garnished mine with soft feta and the tangy flavor was great, but this is optional
healing whole nutrition http://www.healingwholenutrition.com/