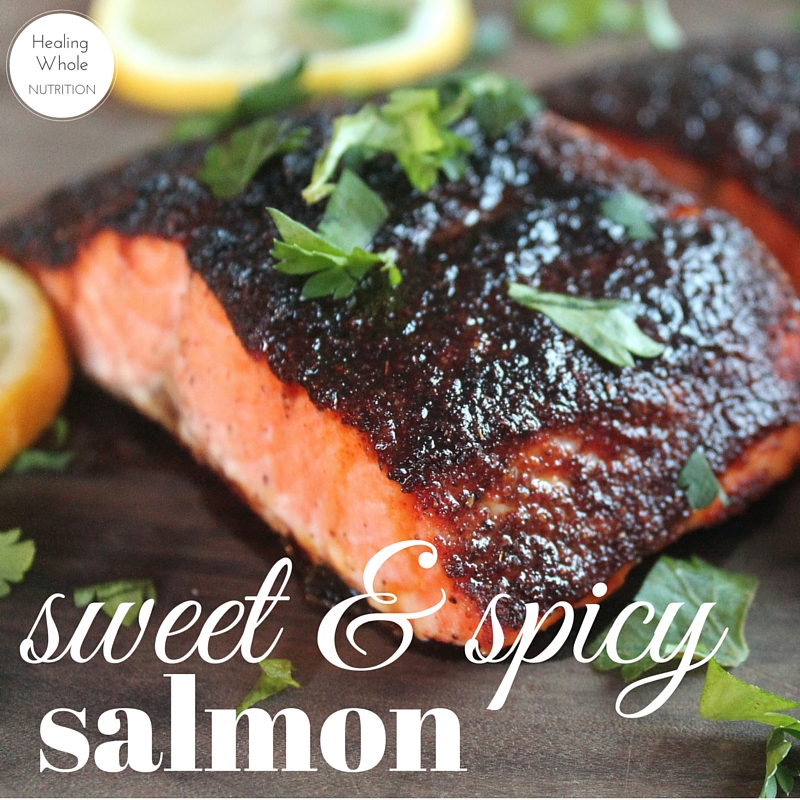 If I had made New Years Resolutions this year (oops), eating more salmon would definitely be one of them. I've learned the nutritional benefits of wild-caught cold-water fish (packed with anti-inflammatory omega-3 fats and Vitamins D and B12) and I know exactly why we should all eat it once or twice a week (hello brain health), but salmon dinners are rare in our house. I think this recipe may be my ticket to more seafood in 2016.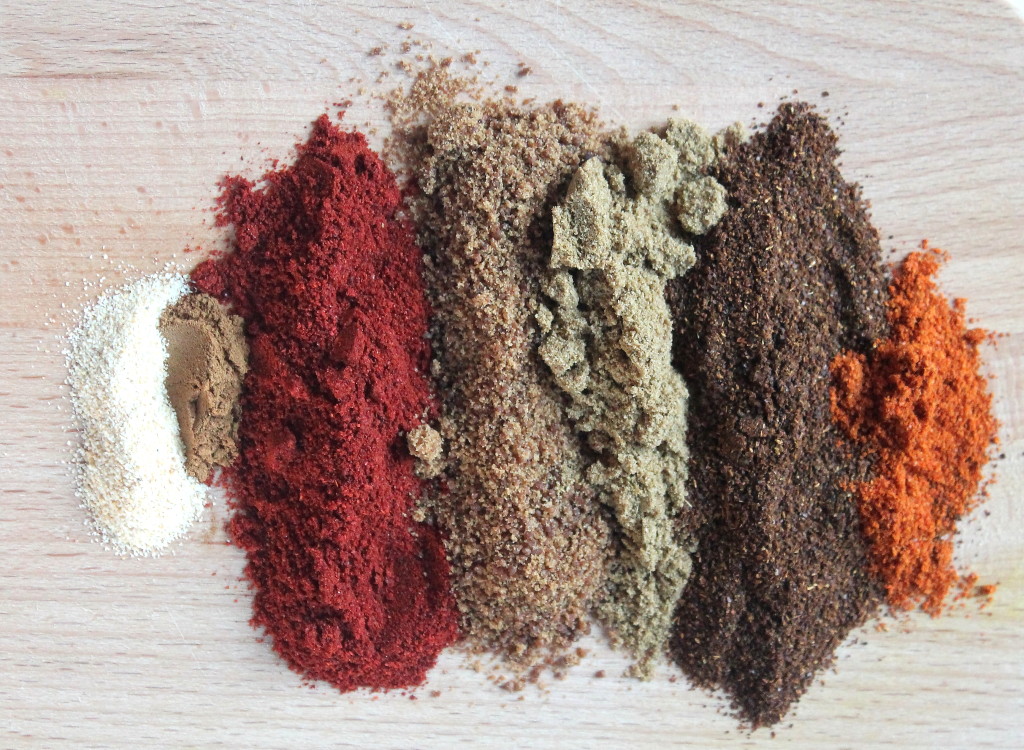 Here's the spice rub. From left to right we have garlic, cinnamon, paprika, coconut sugar, cumin, chili powder and cayenne. This yummy mixture creates a sweet and spicy crust on the salmon and is then topped with honey and fresh lemon juice for even more flavor.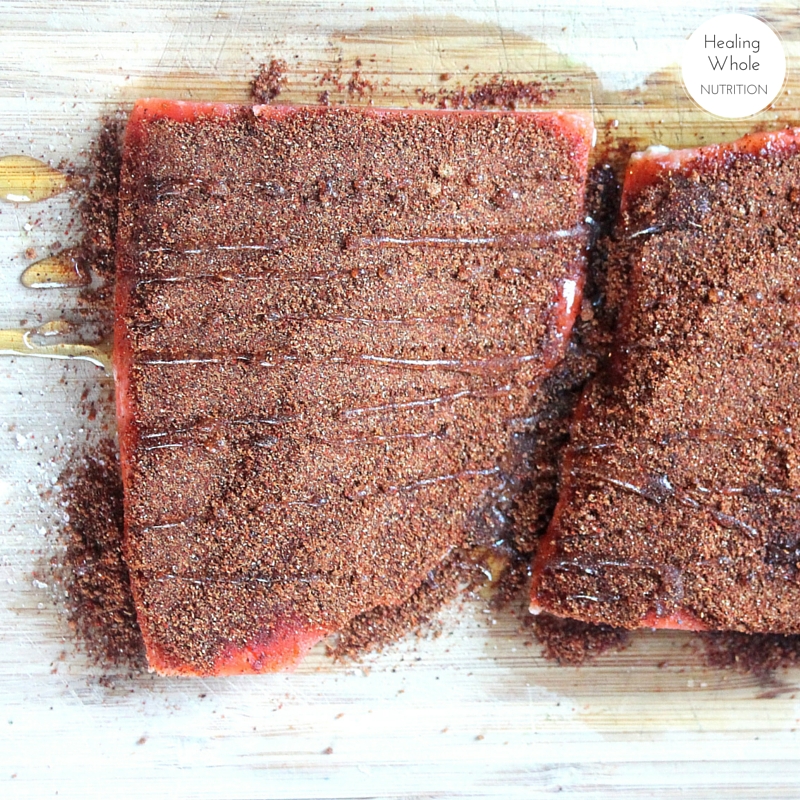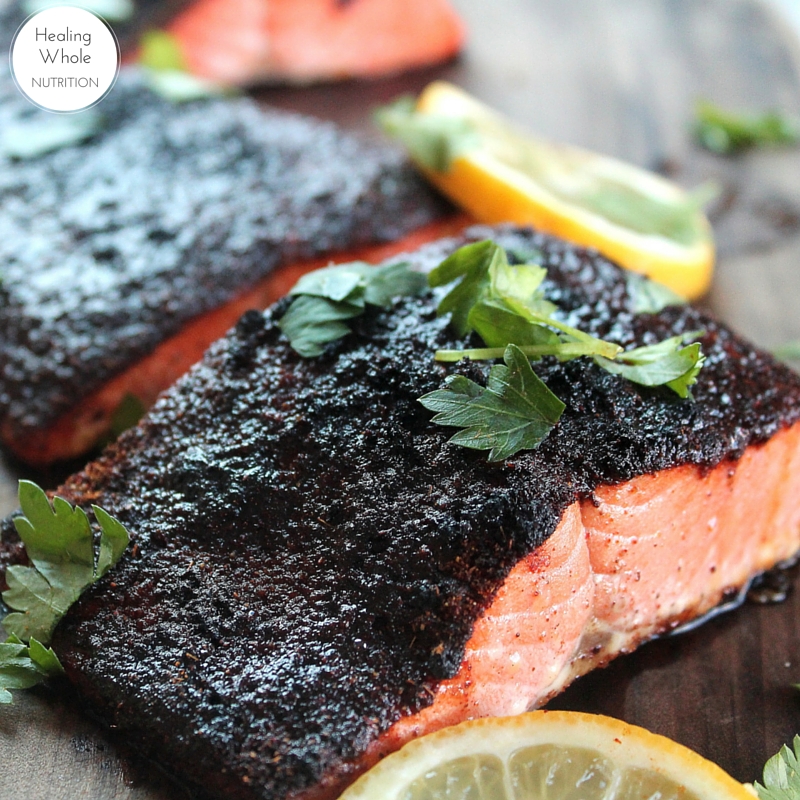 Our broiler in our apartment is HOT. Hotter than any oven broiler I've ever cooked with, and it created this blackened, charred-like crust. Your broiler will most likely not do this, but if it does, know that it still tastes amazing. Charred and all, we couldn't stop eating it.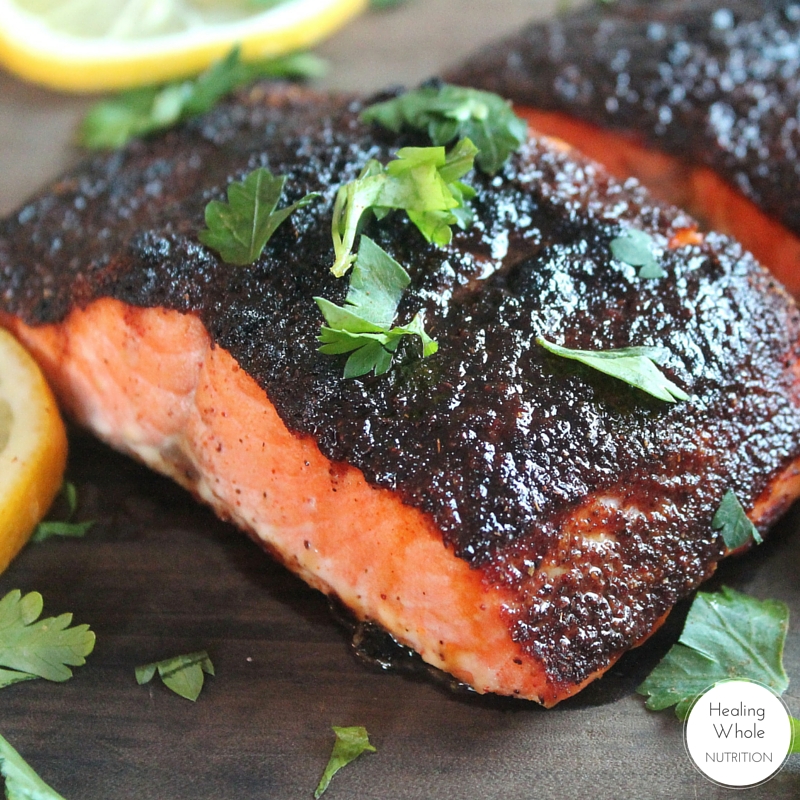 If you're like us and are trying to add more omega-3-rich foods into your diet, this salmon is the perfect option. It's also a great recipe to try with kiddos who might be a bit weary of seafood since the spice rub seems to mask some of the "fishy" flavor you might normally expect from salmon. I can't wait for you to try it!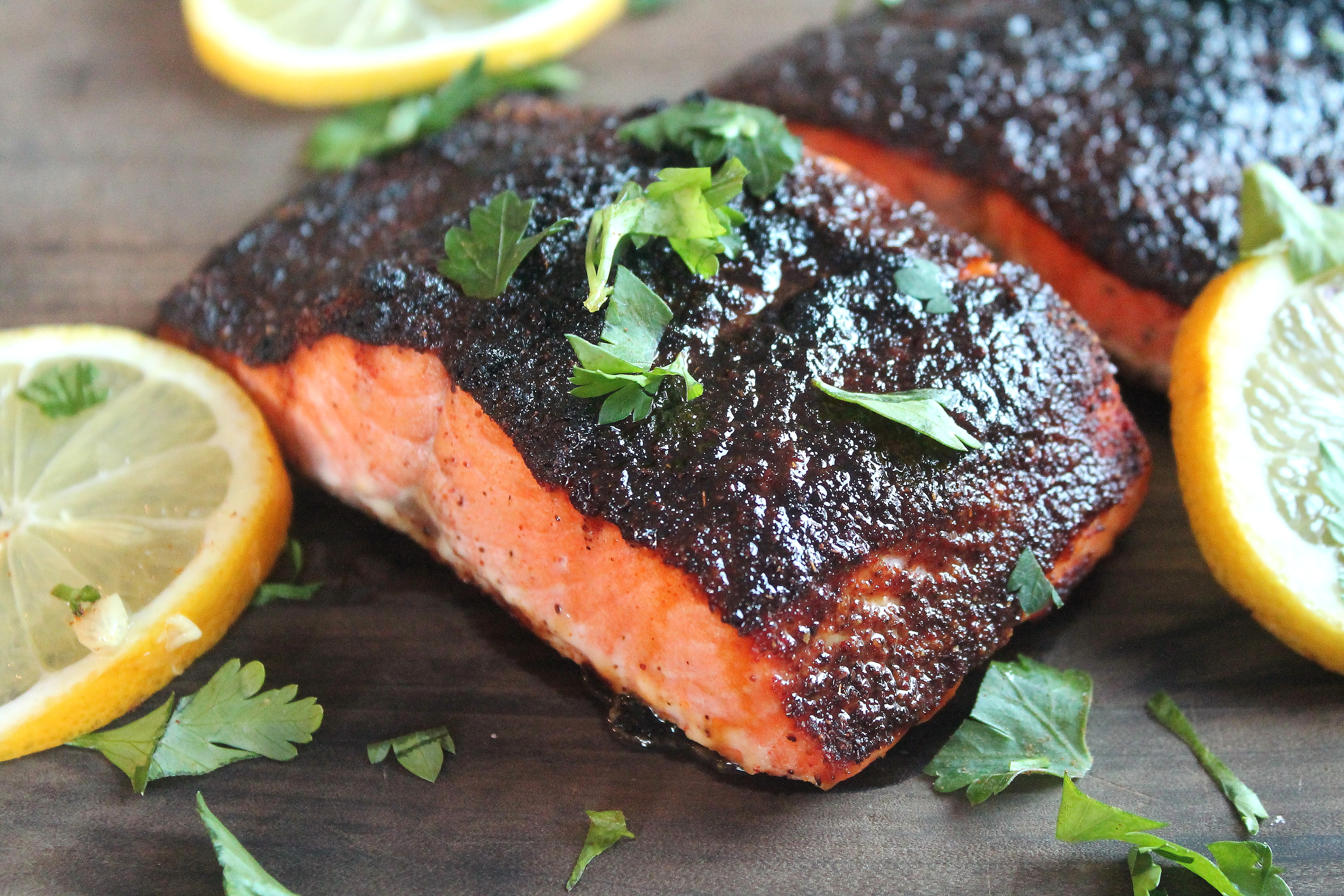 Blackened Sweet and Spicy Salmon
2016-01-05 13:38:23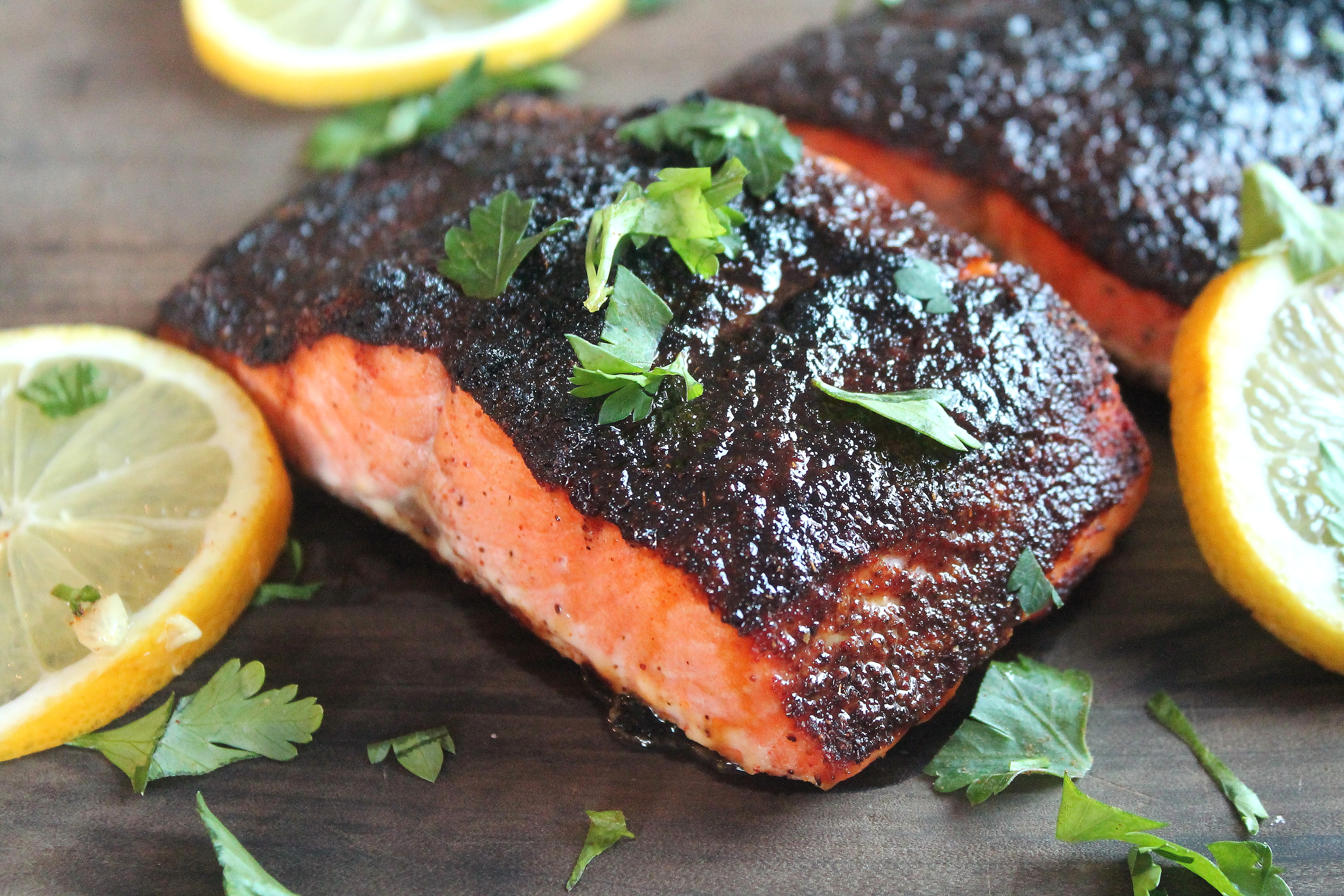 Serves 3
This flavorful, nutritious sweet and spicy salmon is one of our new favorite ways to eat seafood!
Ingredients
3, 4oz wild-caught salmon filets
1 tsp salt
1/4 tsp garlic
2 tsp paprika
2 tsp coconut sugar or organic brown sugar
1 tsp cumin
1 tsp chili powder
1/4 tsp cayenne
1-2 Tbsp honey - this depends on how much you drizzle on top of the filets
Juice of half a lemon
Instructions
Turn on your oven to Broil
Place the salmon filets on a baking sheet skin down (don't use parchment - it may burn under the broiler)
Combine all spices, EXCEPT the salt, in a small dish
Salt all three of the filets with the 1 tsp of salt (not 1 tsp each, but divided)
Combine all of the spices, minus the salt, in a small bowl
Rub about 1 tbsp of the spice rub onto each filet
Drizzle honey on top of each filet
Bake the salmon in the oven for 8 minutes, no longer
Juice the half of a lemon over all three filets, and enjoy!
healing whole nutrition http://www.healingwholenutrition.com/