I say this every week, but it's crazy that another week has come and gone. I'm so thankful that I've been healthy so far in this pregnancy – twins are no joke and I am crossing my fingers this continues in the next 10 or so weeks! That said, this week I've definitely been more tired than I have been lately. I'm not sure why this is but I am attributing it to the twins growing nice and big! Last weekend we went downtown to have dinner with friends and I was basically a zombie come 9pm. It's an exhaustion I can't quite explain, but it's not fun! I always think I want to travel and go to late dinners, but nights like that remind me that it's just harder when you're pregnant. Our dinner on the other hand, was SO worth it, even though my appetite is still pretty bad at night. Lighter foods taste the best, so Mitch and I split mussels and the best grilled focaccia bread and I got a summer zucchini salad and roasted cauliflower with pine nuts and raisins. This dinner was amazzzing, and we got to hang with their 11 week old baby the whole time, so it was definitely worth the exhaustion:) If you're from Houston, the odds are you've tried Coltivare, but if you haven't, it's a must (despite their signature 1-2 hour wait). Their cocktails also looked amazing so we will have to go back once I can partake!
Week 22
The twins: The babies are about 10.9″ long and 15oz each. They're about the size of papayas this week, which seem so big (they must be small papayas;)
Cravings and aversions: Dairy is still my best friend. My heartburn came back a little bit this week so milk, yogurt and cottage cheese sound the best throughout the day. I think it's making my skin breakout a little bit, but I figure growing the twin's bones is more important than my skin right now. And, dairy is such a delicious, easy way to get in more protein. This week I've wanted an ice cold Coke, which is so weird since I haven't had pop in years. I even had a dream a Coke was being poured over ice for me…it still sounds so good actually. I've also been craving salads more often, mainly because cold, refreshing foods sound the best to me. Also, so random. but Amy's veggie lentil soup in a can is something I can't get enough of right now. It's pretty bland, so I'm guessing that's why.
Wearing: Pretty much a lot of workout clothes this week. Lulu lemon leggings (which are snug but they come up super high so they work), nike running shorts, nike spandex shorts (all worn low), and tanks. I work from home so I really don't need to invest in new "office clothes" which is really nice. My regular jean shorts are still pretty comfy too. I ordered 7 (oops) dresses from asos.com this week and hopefully some of them work. Will keep you posted!
Sleeping: One of my friends got me a Snoogle
pillow this week and at first I wasn't so sure about it because it's about the size of me. BUT after trying it out, I think I'm hooked. It basically snuggles you and it prevents me from constantly flipping on my back to sleep (which you aren't supposed to do later in pregnancy). I tried to sleep without it last night and I ended up grabbing it in the middle of the night and immediately was more comfortable – love it! I am sleeping really great, especially with the new pillow, so no complaints here.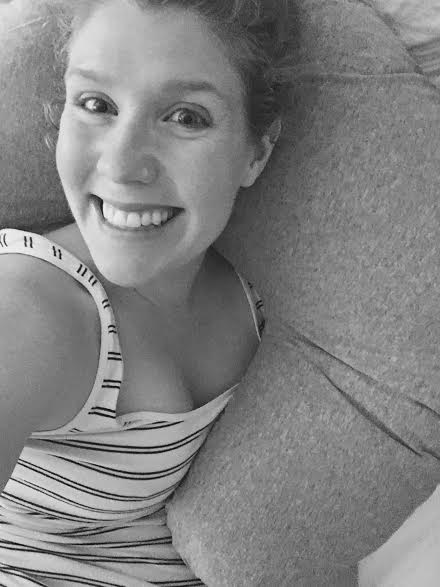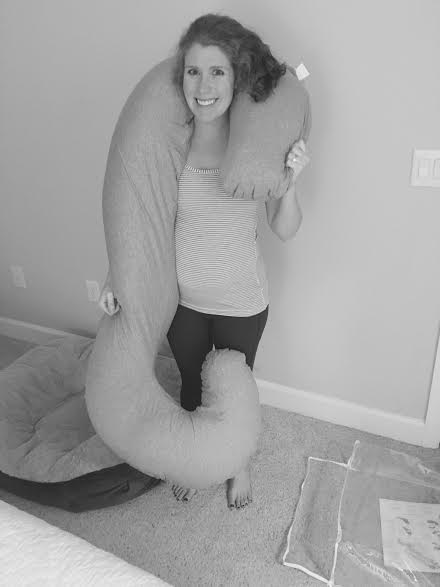 Names: Talking a little more about middle names, but that's it. My mom asked me this week if we know which baby will have which name, and yes, we do!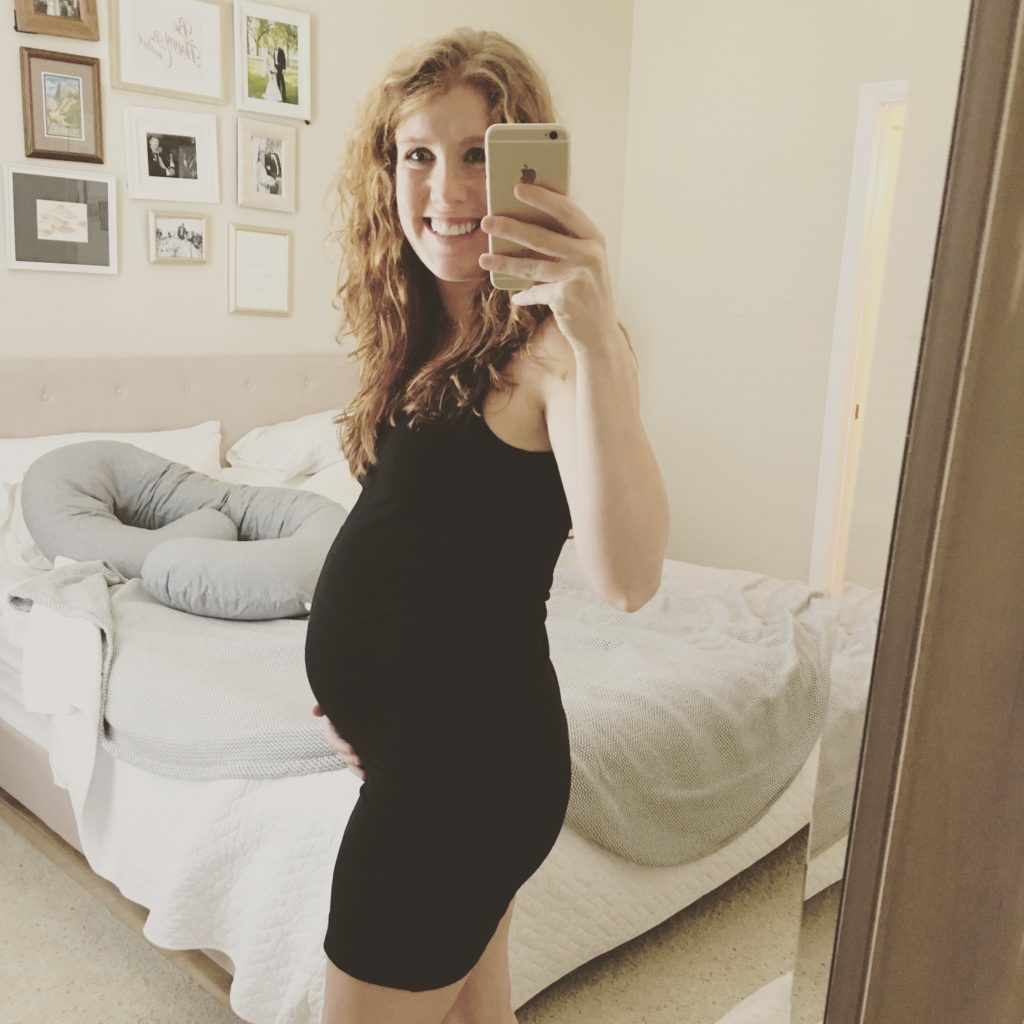 Bump: Getting bigger (snoogle is in the background of this pic!). I feel especially big at night time. There are definitely two babes in there! My entire body just feels a little bigger these days too. My rib cage is a lot wider, so a lot of my clothes fit much differently, and my hips seem to be getting wider? It's so weird and interesting to see your body change from what you've known for so long into something entirely different and have zero control over it. Not complaining though! The weirdest part is having none of your go-to clothes fit.
Movement: Lots of movement lately! I was reading that when we are busy and moving around, it acts as a rocking motion for the babies so they tend to sleep during busy times. This explains why whenever I lay or sit down I start to feel them move, because they must wake up from their slumber. It's so fun, and I think I am able to somewhat distinguish which baby is which.
Exercise: I went to the gym a few times this week but my normal fast treadmill walking on an incline wasn't working. After about 5 minutes of walking I would start to get a weird cramping sensation on the right side of my belly, so I stopped and just went to do squats, free weights etc instead. Biking on a stationary bike was much more comfortable so I might stick with that. I really miss running, too! Whenever I see people running on the treadmill I get a little envious because that was always my go-to workout, whether it was outside or at the gym. I can't even imagine how hard that first run will be after the babies are born after all this time off! FYI, a lot of people continue running throughout pregnancy, but for me, it just felt kind of weird, so I didn't continue it.
Baby purchases: I haven't bought anything this week, but we keep getting fun gifts off our registry! I love seeing them all.
Nursery: We made a lot of headway in the nursery this past weekend which was really fun. Mitch built the crib and we went to pick up our dresser I found on Craigslist (the cutest Pottery Barn dresser that I got a really good deal on). I also organized the walk in closet and put the gifts we've been getting in there to make room for all the furniture. Since we are keeping it a guest room we had to obviously keep our queen bed in there, and it's actually not as cramped as I would have thought. Our glider comes in in a few weeks and then I'll show you the final product!
Supplements: Same as before, but I am trying my hardest to remember my probiotic. We met with a Doula this week and she told me there have been studies showing the use of probiotics help to minimize the risk of Strep B infection that some women test positive for when they're prego. If you test positive before you go into labor, they'll put you on an antibiotic and I'd like to avoid that.
Doula update: We found a doula this week! We met with two last Friday and met with another on Wednesday and chose the one we met with on Weds. She was recommended by my doctor which I like and she was able to give us some inside scoop on how our doctor operates during deliveries. Apparently our doctor is very true to her word and will try anything to have us have the natural birth we want for the twins, so that made me feel good. She's also been a doula for 13 years and attended over 650 births which is so impressive! I think we'll be in good hands.
What's next: I have our next growth scan on Tuesday at the Maternal Fetal Medicine doctor. Hopefully we find out that baby B is growing on his growth curve (he was in the 16th percentile last time) or is even surpassing it. Obviously I want the same for baby A (but he was in the 67th percentile for size, so bigger than baby B). We also started Bradley Method classes this week, and will go each Monday for about 10 weeks. It's the child birth class we chose, and it focuses more on a natural birth, but does a really good job of explaining your options at the hospital for the birth and for baby afterward. I highly recommend it!
Weight gain: I weighed myself this week and looks like I've gained another 2 lbs. Seems like clockwork these days that I gain 2 lbs/week! I did the math the other day and if I continue this trend, I will have gained about 40 lbs by the end of the pregnancy which seems like a good number to me. We will see.
Stretch marks: None so far! Thanking my collagen protein for this one.
Any worries? Not really. I am hoping the growth scan goes well on Tuesday and that both babies are thriving, but it's not necessarily something I'm worried about quite yet!